Ancillaries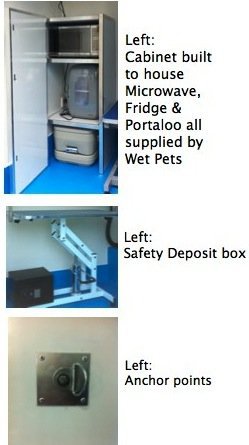 As well as providing any grooming equipment that you may need, we are also able to supply and fit any ancillary items that you may need.
From TV's, Fridges, Microwaves, Portaloos and Safety Deposit boxes through to anchor points with bungees to secure free standing dryers to, the list is endless.
Each supplied item will be covered by it's own manufacturer's warranty and expertly fitted by our team.
Ancillaries
If you like what you see with one of our products, call us today on 01258 837 779, or email us at hello@wetpetsconversions.co.uk. Alternatively simply fill in the form below and press submit and we will get back to you shortly regarding your enquiry.
Contact Wet Pet's Conversions