G:Room Grooming Parlours

We have been creating our industry leading Grooming Parlours since 1986 and they are like nothing else in the industry. Built from our Revolutionary insulated panel and hand made onsite, each parlour provides you with the perfect professional grooming salon without the costs of a retail premises and from the comfort of your own garden - plus when you move home you just take it with you!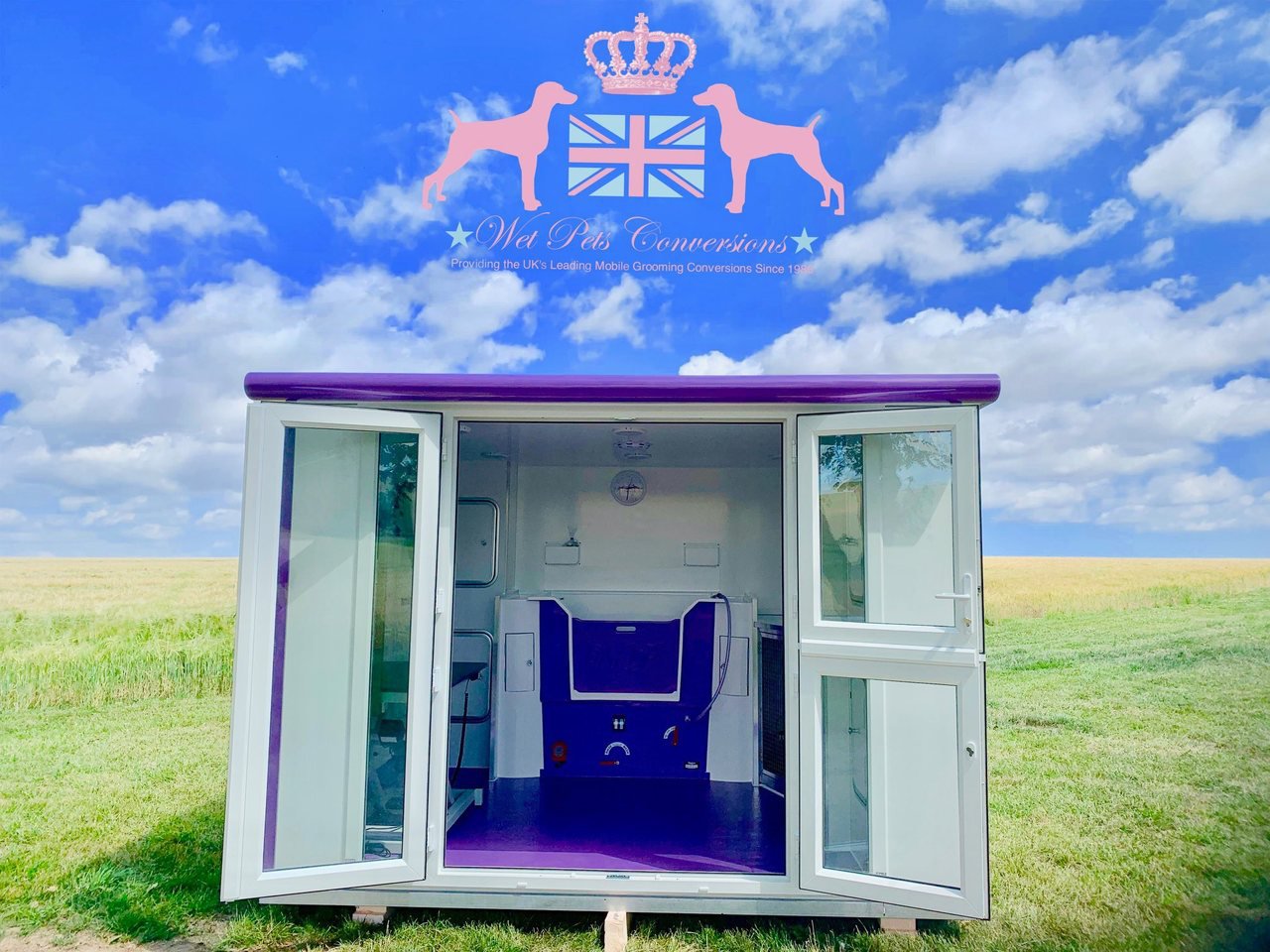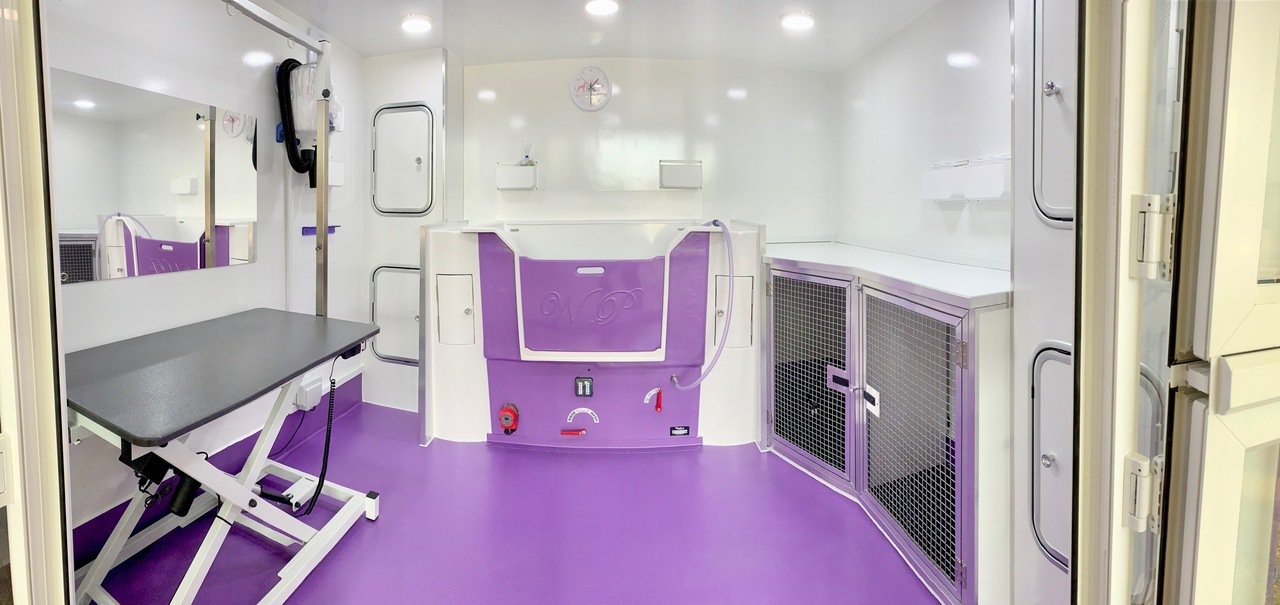 Introducing the G:Room Parlour!
The G:Room parlour range is our incredible new range of grooming rooms with the same amazing benefits of our famous Wet Pets Parlours but suitable for every budget! Here's just a few of the benefits...
Handmade onsite from our own Revolutionary composite panel.
Zero maintenance required & completely rot free.
Provide unrivalled levels of insulation, sound proofing and are completely waterproof.
10 Year Build Warranty.
An expected life span of over 60 years!
No concrete foundations required.
Never normally require any Planning permission due to their size and portability.
Fully Double Glazed opening double doors for a wonderful open plan design. Single door option available at no extra cost.
Unique white gloss "Wet Room" interior with a texture free wipe clean finish that can be completely hosed or jet washed out.
Zero joins due to one piece panel walls for maximum strength, portability,weather proofing and longevity.
Completely self contained and simply plug into the mains electric via the 25m cable for a standard 16amp electric circuit (or upgrade to 64amp if more power is required), and plug your hose pipe onto the outside hose lock provided for the water supply. If a hose pipe is not available we can install interior fresh water tanks and external waste water tanks.
Fully portable and can be moved an unlimited amount of times.
Wet Pets are fully FCA regulated and Finance can be arranged on all sizes and conversions.
Each g:room is fully customisable to your garden in terms of size and the water in/out and electric ports tailored to fit your garden.
Unlimited external finishes available, from standard white GRP to Treated wood cladding or our brand new Wood Effect fibre glass cladding that looks just like wood but will never age or require maintenance.
Can be supplied as building only or fully kitted out with unlimited extras - we can even for your own equipment for you!
Assistance can be provided with delivery, we work with local delivery companies who we can put you in touch with for a quotation or you are welcome to organise your own transport.
Prices from only £3,850+vat! Scroll down further for prices...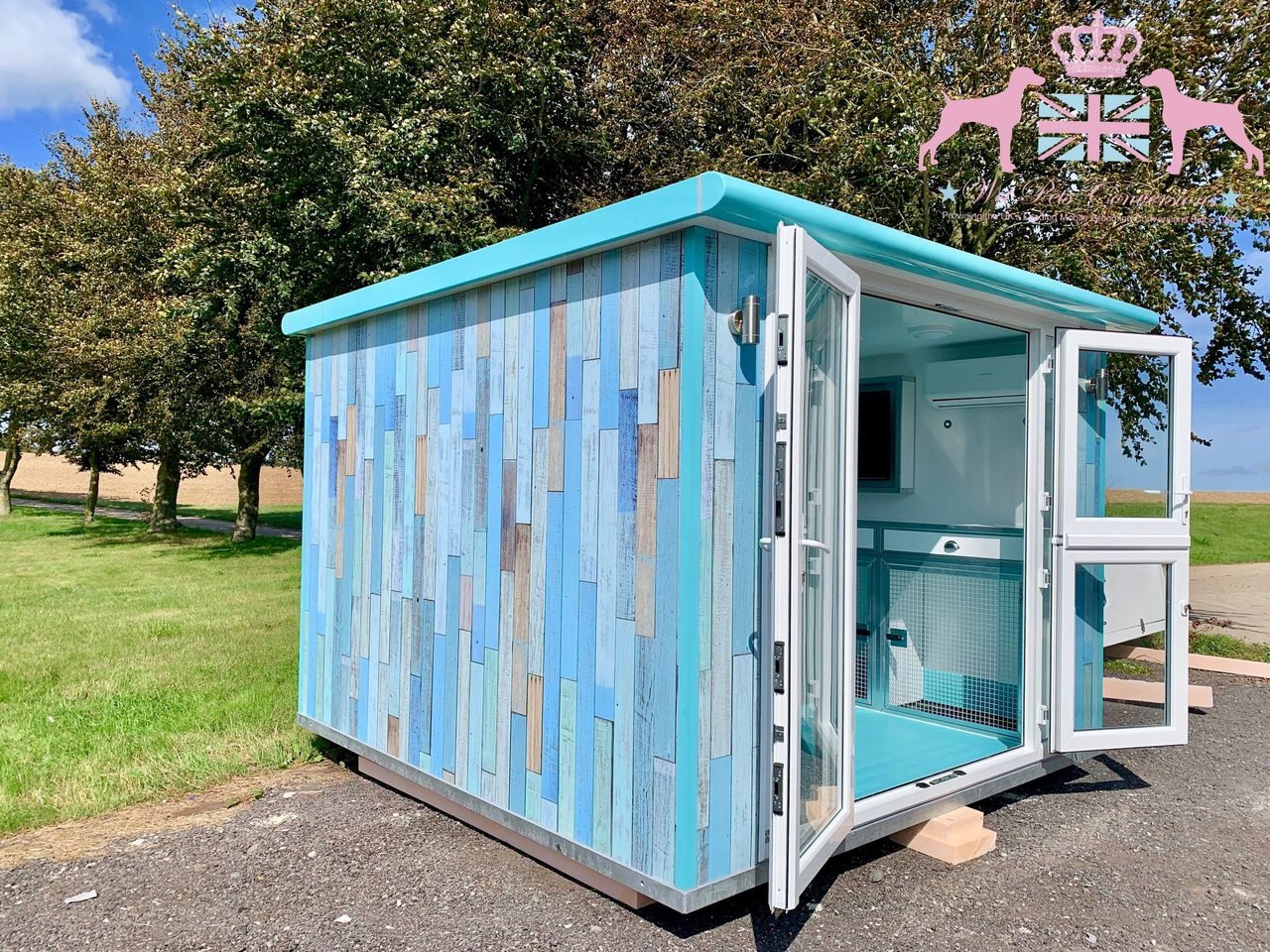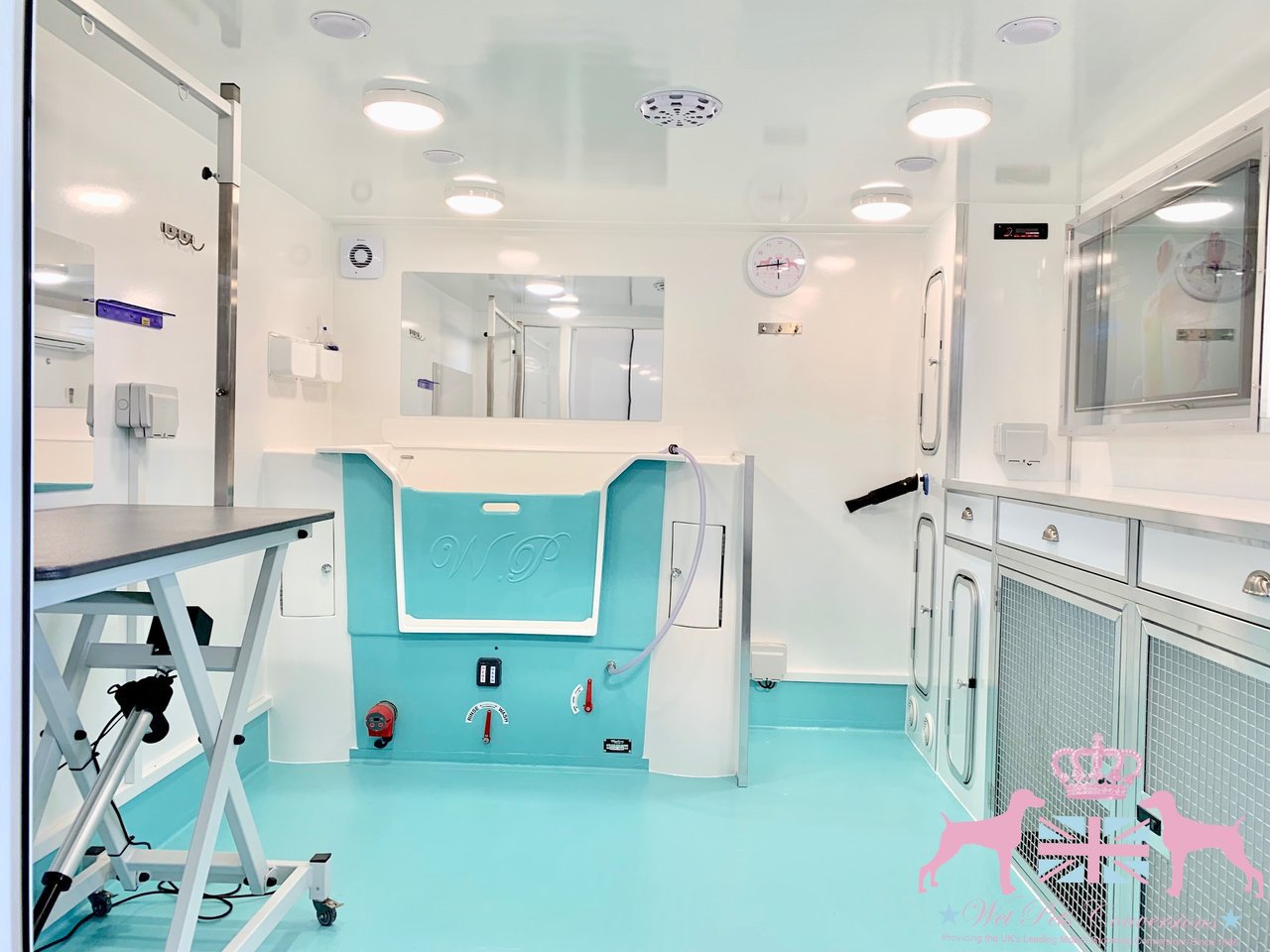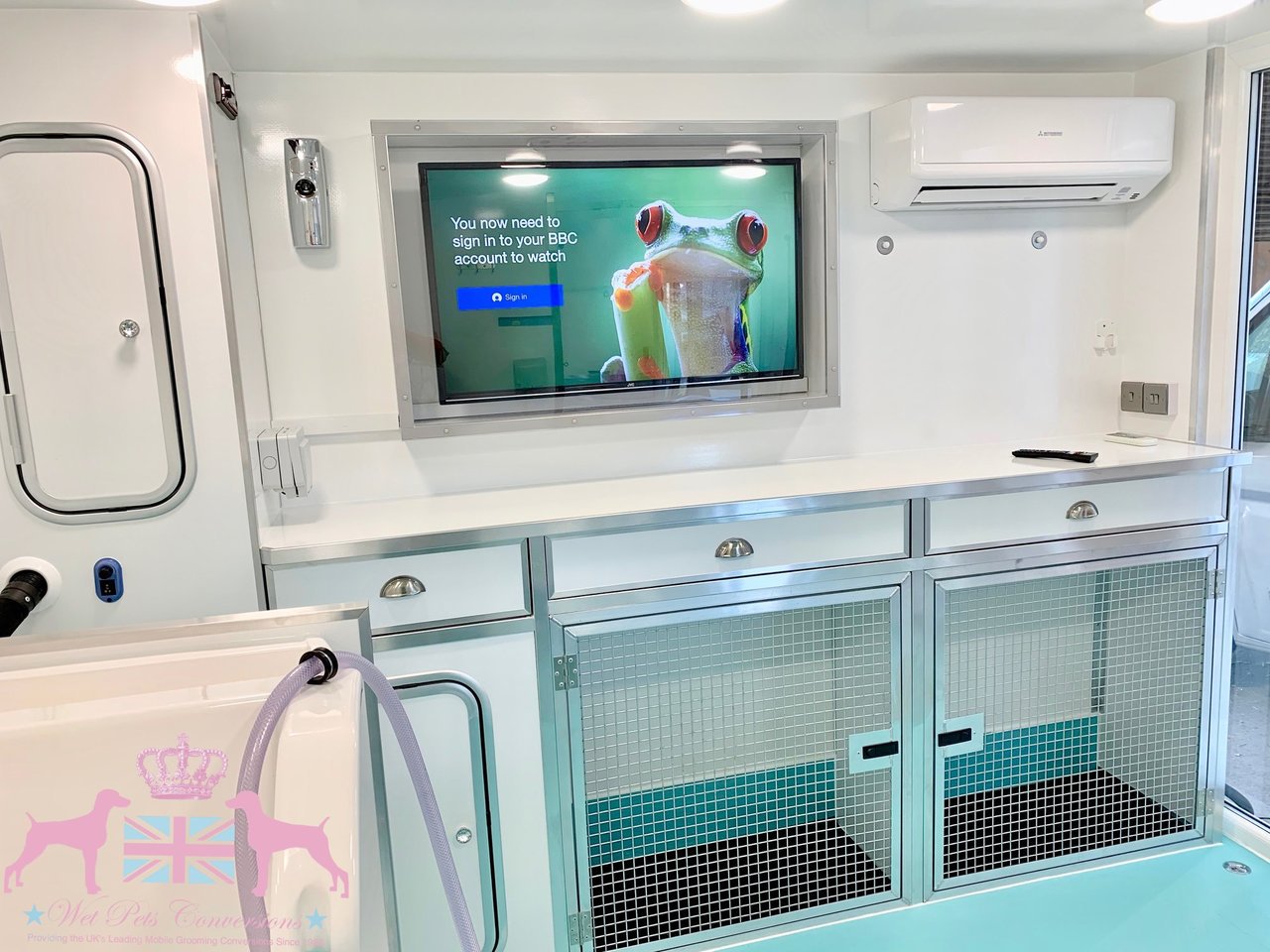 Check out our new Pitched Roof design below!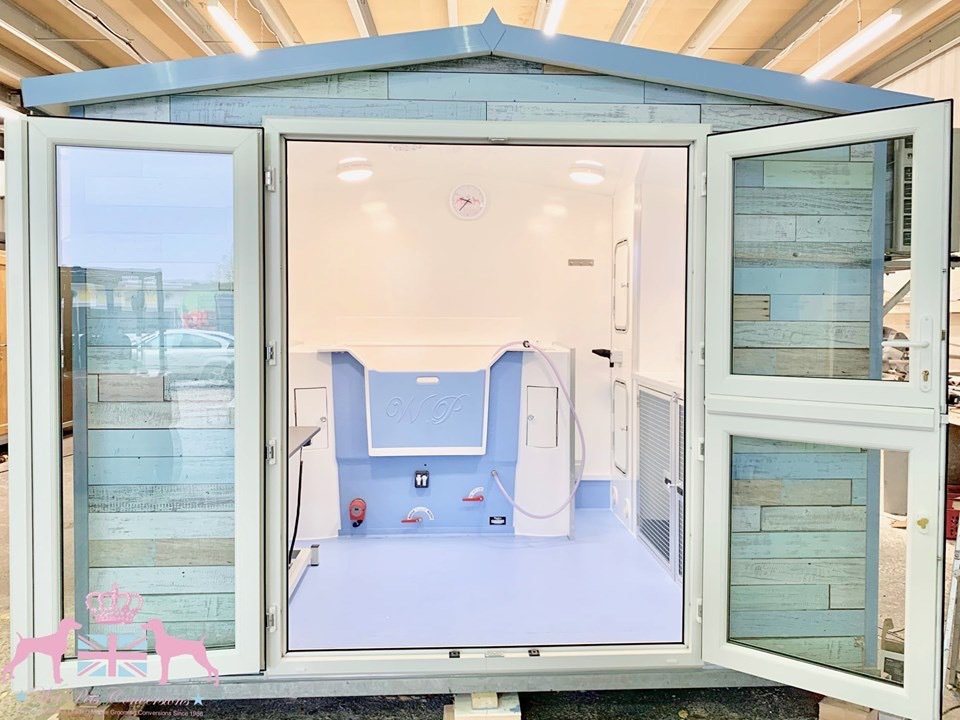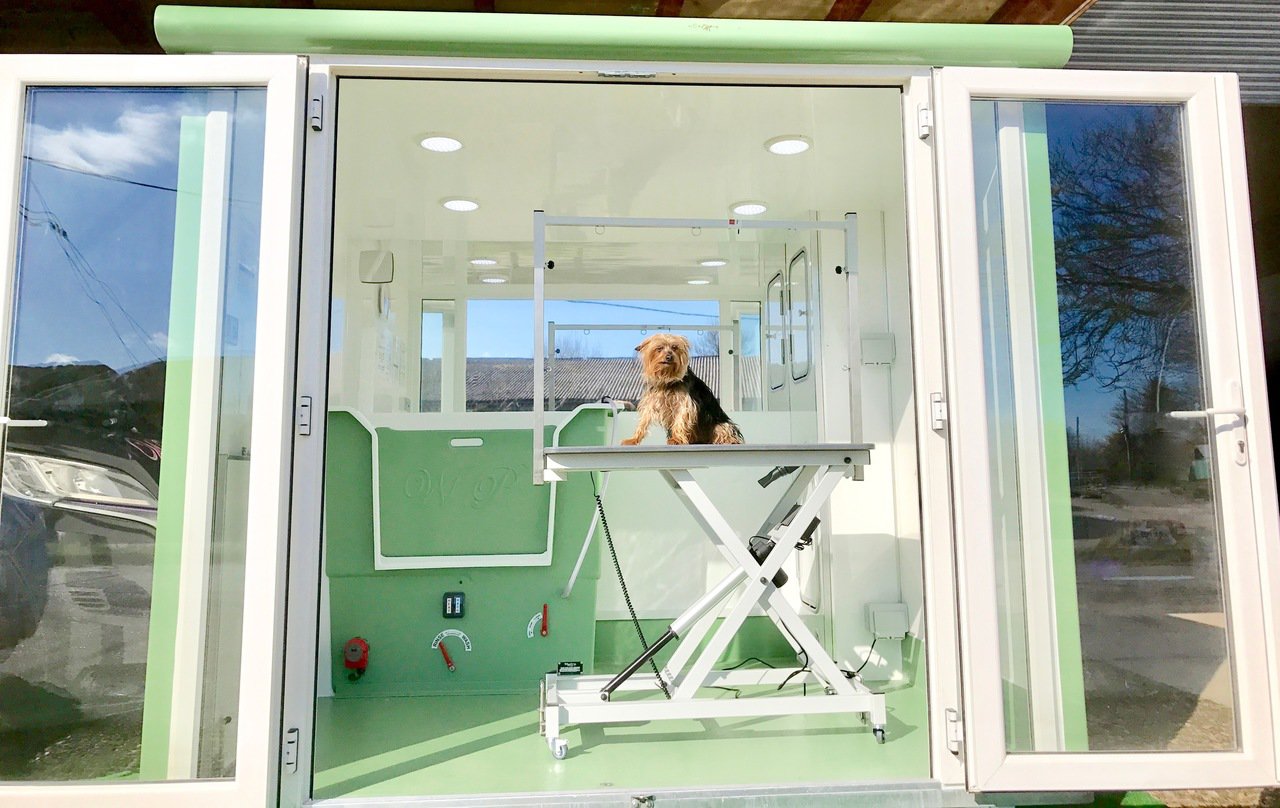 Our incredible Insulated water proof g:rooms allow you to have a fully functioning professional work place wherever you want to work! - and if you want to move it? no problem! They are completely portable and can be moved an unlimited amount of times.

Our new 360° Table access allows you to move your table anywhere in the parlour! - Its ideal for getting older dogs out of the bath too to save you lifting them onto the table! The wheels lock into position during the groom and the table stows under a retainer with additional shoot bolts to safely lock it in place during any movement of the pod. If your working near the open doors, ensure you have the dog adequately secured to the table (unlike our dog Spartacus pictured!).

With the addition of our Doggy Door Guards, you can either work with both main doors open OR close the door nearest to your customer incase they may try to escape! and open the opposite door whilst bringing our door guard across to create a lovely open but secure workplace.
Our wall mounted Blasters are fitted with extra long hoses enabling you to reach the bath and the table easily. If a cabinet is chosen, we can mount the Blaster inside and display the controls on the outisde of the cabinet for super easy adjustability. When your finished, simply feed the hose back through into the cupboard to keep things neat and tidy!

Electric

: The Pods are completely self contained and simply plug into a normal mains socket via the 25m cable provided. The electrics are fully certified and include an RCD Box. As standard you get x1 16 AMP circuit that provides 3,120watts and includes 3 double sockets - you can choose the locations of these or go for our standard locations. If there is more than one Groomer looking to work from the Pod or you would like to use over 3,120 watts at any one time then we recommend increasing the electrics by hard wiring the Pod to your house via the connection we can provide.
Water in ;

As standard, water in is provided via a hose lock connection on the outside. A normal garden hose is connected and the water will go straight into the rinse tank of the Hydrobath. The flow is controlled via a ball cock in the bath for automatic re-fil and the prevention of water overflow. In the rinse tank is a built in heating element which heats the water. If you are unable to attach a garden hose permanently then we can create an interior water tank which can be filled once a week (or less) which will fill the bath instead of the hose.
Waste water:

This is held in the "wash" tank of the Hydrobath and is emptied when you need to. Its normally only approx 30 litres maximum as the hydro baths are so effective you actually use less water. When you want to empty it you turn the drain lever to "open" and the water is piped out of the Pod to an external side of your choice. This can then be piped to a location of your choice - due to the natural ingredients in dog shampoo a lot of customers redirect it to a flower bed or soak away/ external drain. If you are unable to drain the water away we can fit an external waste water holding tank that can be emptied separately.
Delivery; Price excludes delivery but we work with some local delivery companies that we can put you in touch with for prices. Our Parlours are extremely light but strong and can easily be moved every day if they need to be. For hard to reach areas we advise them to be craned in and due to their unique design they do not need concrete footings.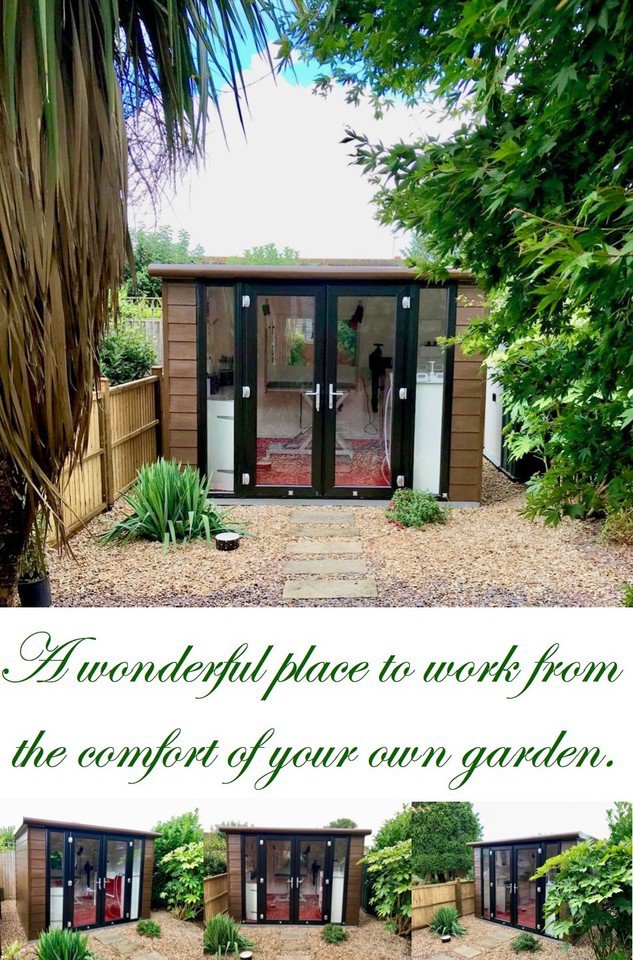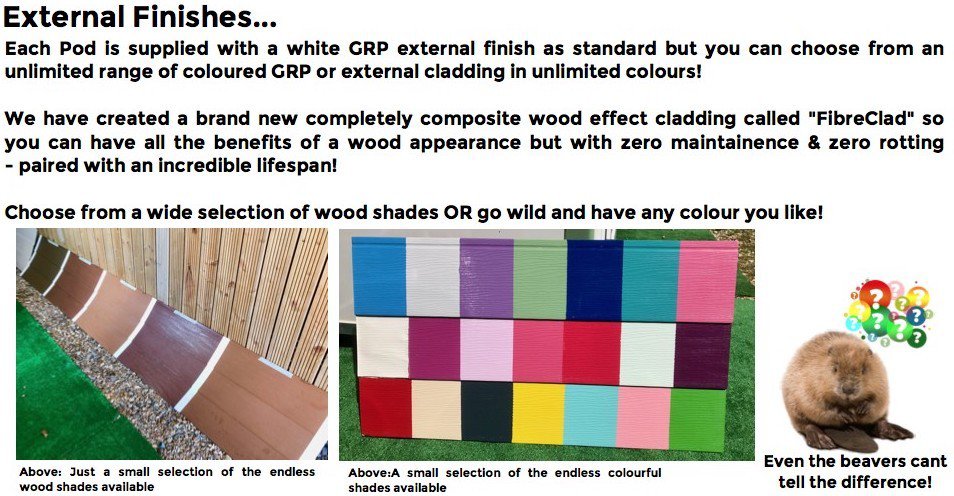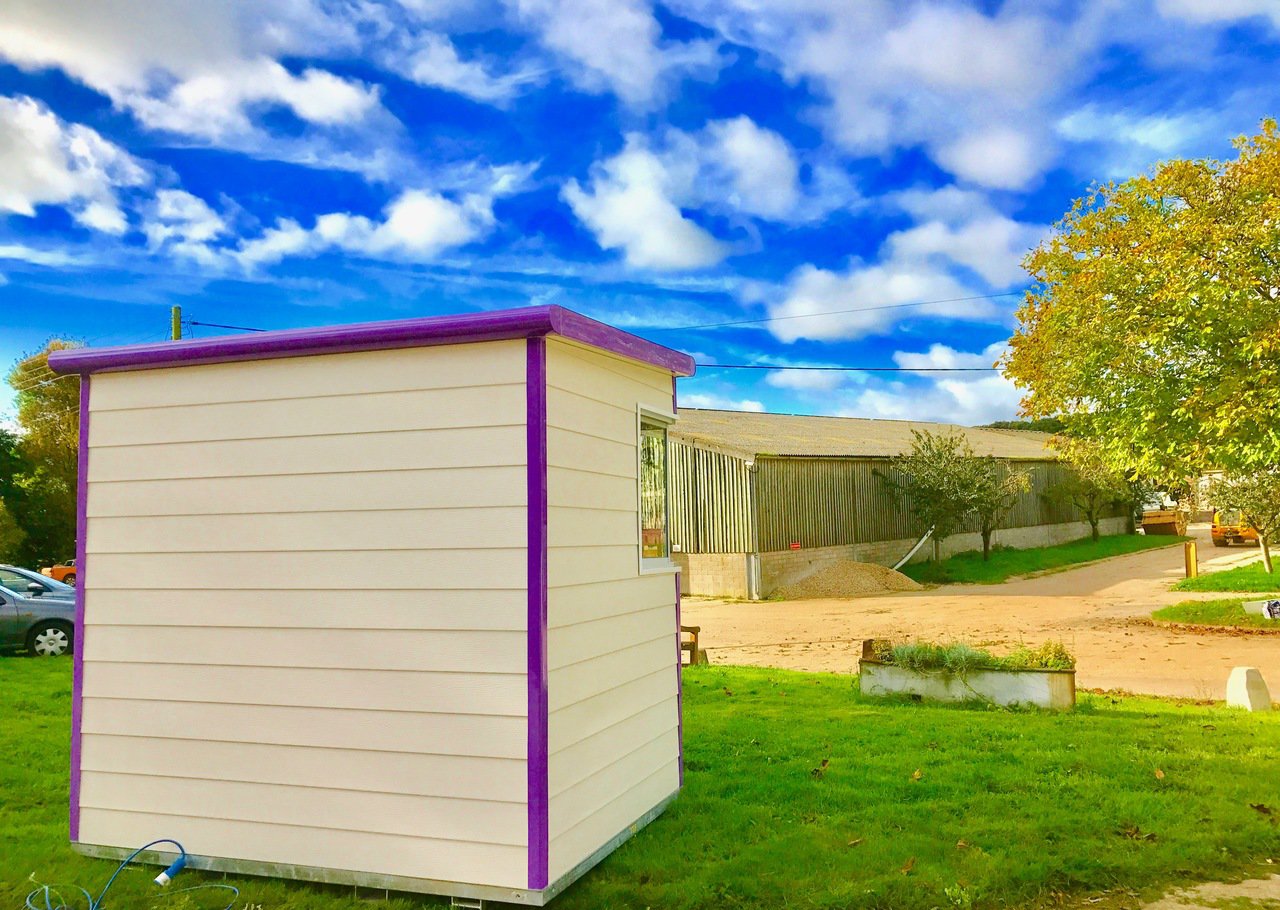 "A MASSIVE thank you to everyone at Wet Pets for my fantastic new grooming parlour! It's even better than I could have imagined. I went for the smaller parlour and it has been so well designed that it is surprisingly spacious inside even with all my additional equipment in place. The external wood effect cladding gives it an extra special finish and everyone who has seen it has been blown away by how smart and professional it looks. The Wet Pets customer service has been second to none, with nothing being too much trouble. I would highly recommend a Wet Pets parlour to anyone wishing to set up a dog grooming business from home - you won't find anything better!"
Jessica Tucker, Owner at Completely Mutts, Devon. Check out our other testimonials..
Or Have your Pod vinyl wrapped in any image you like!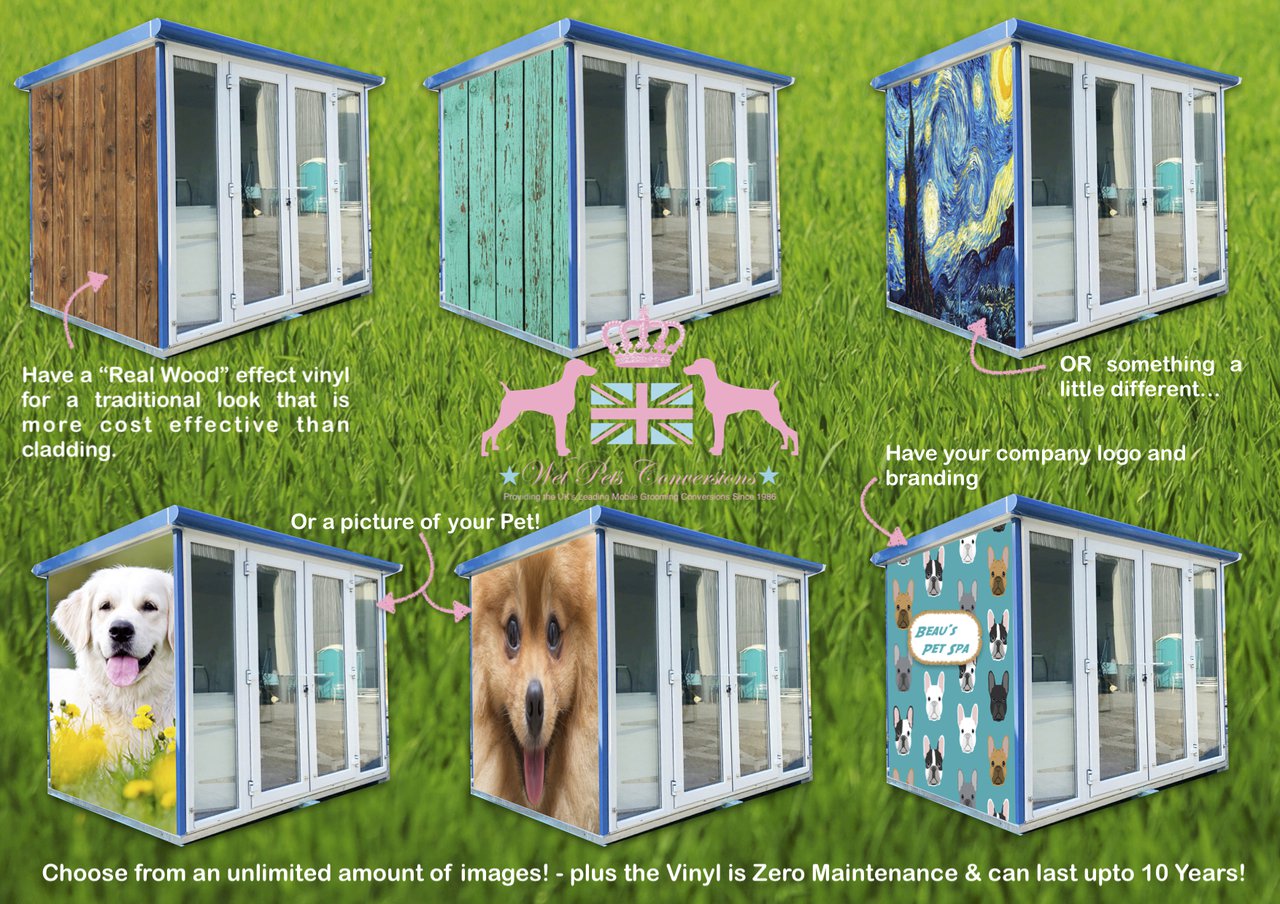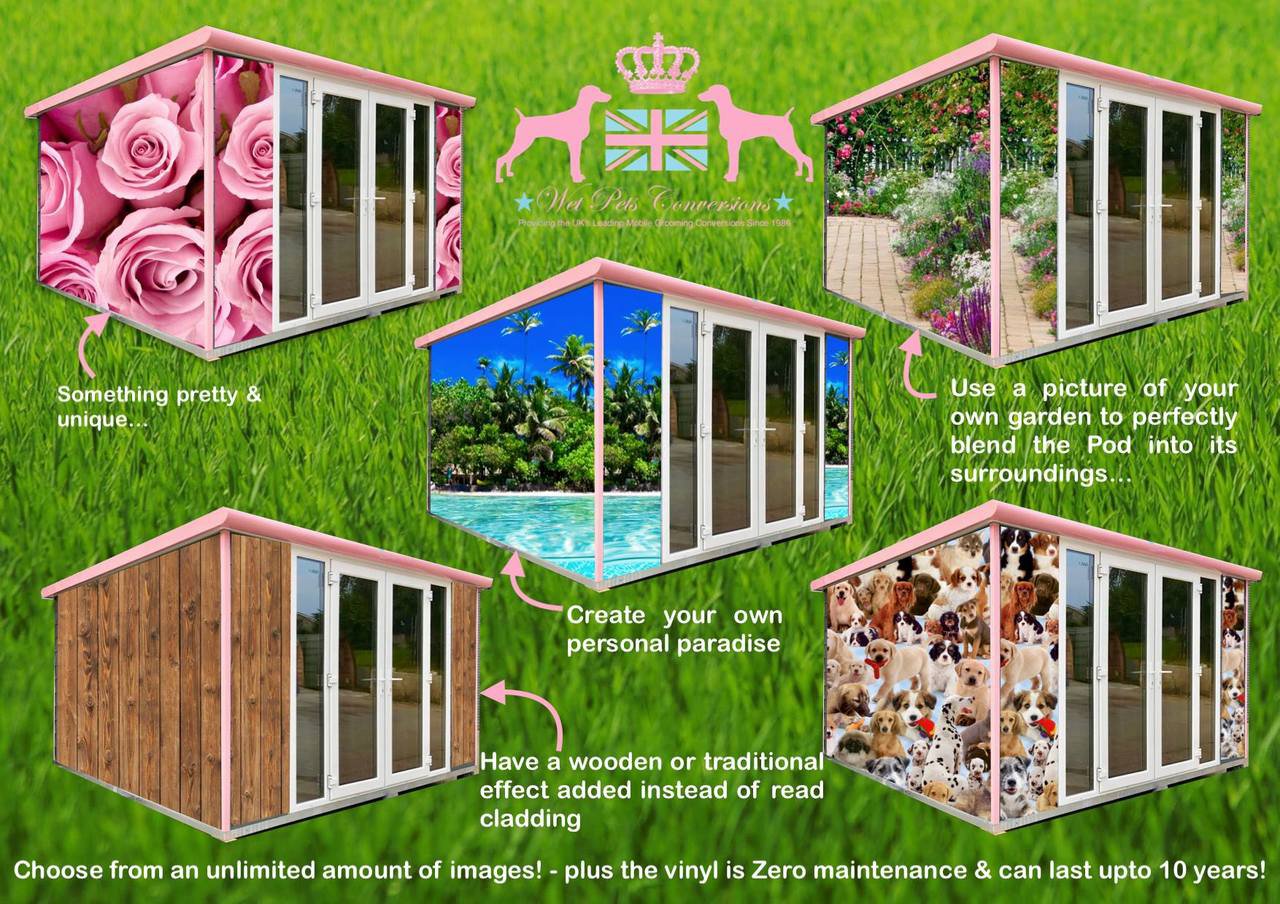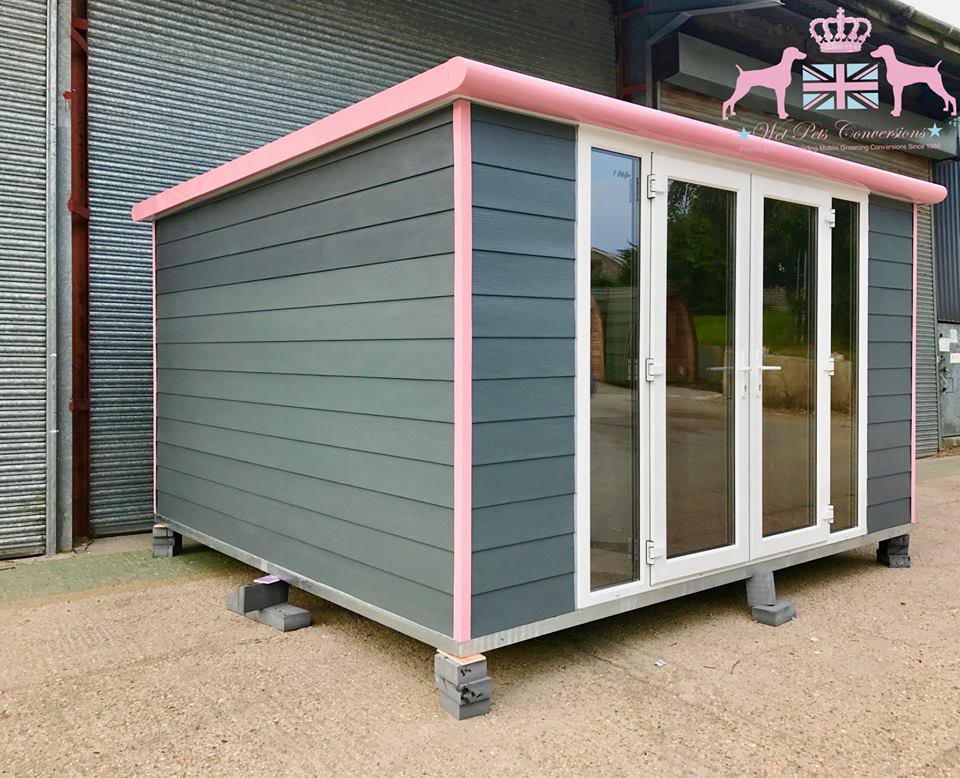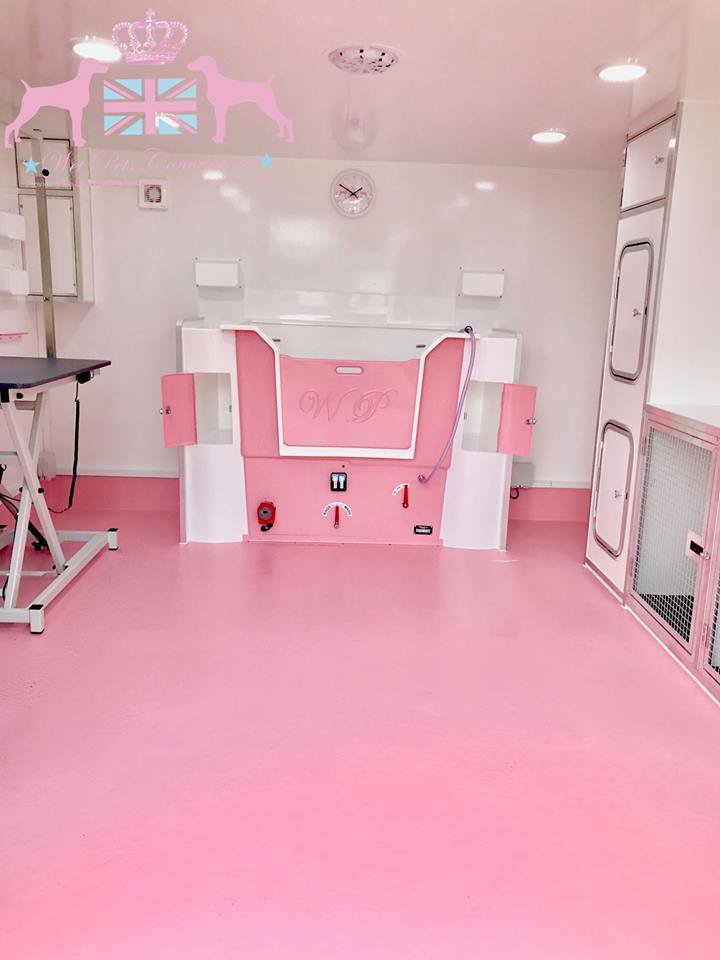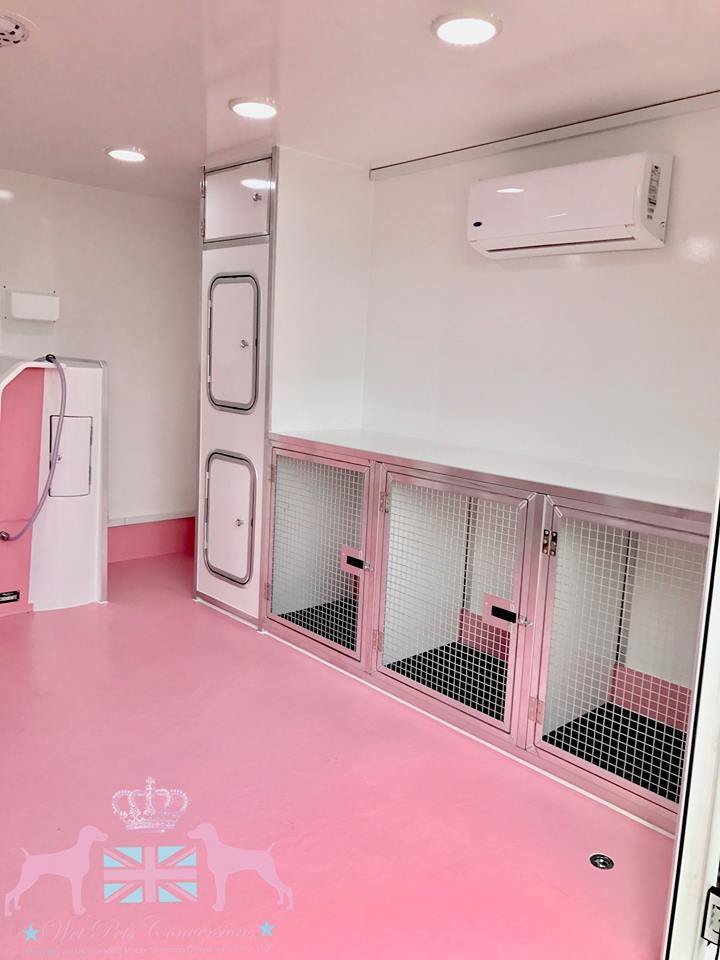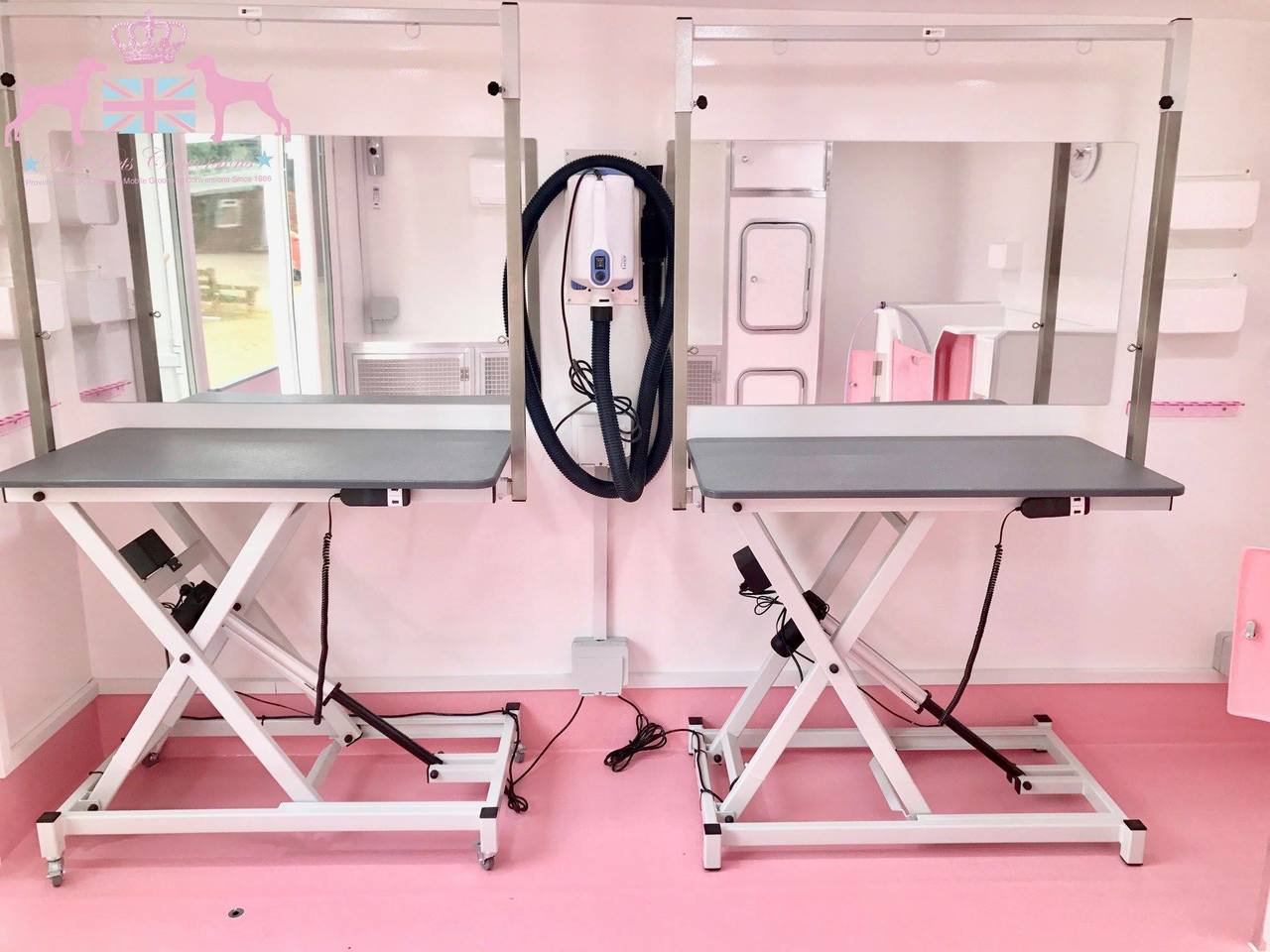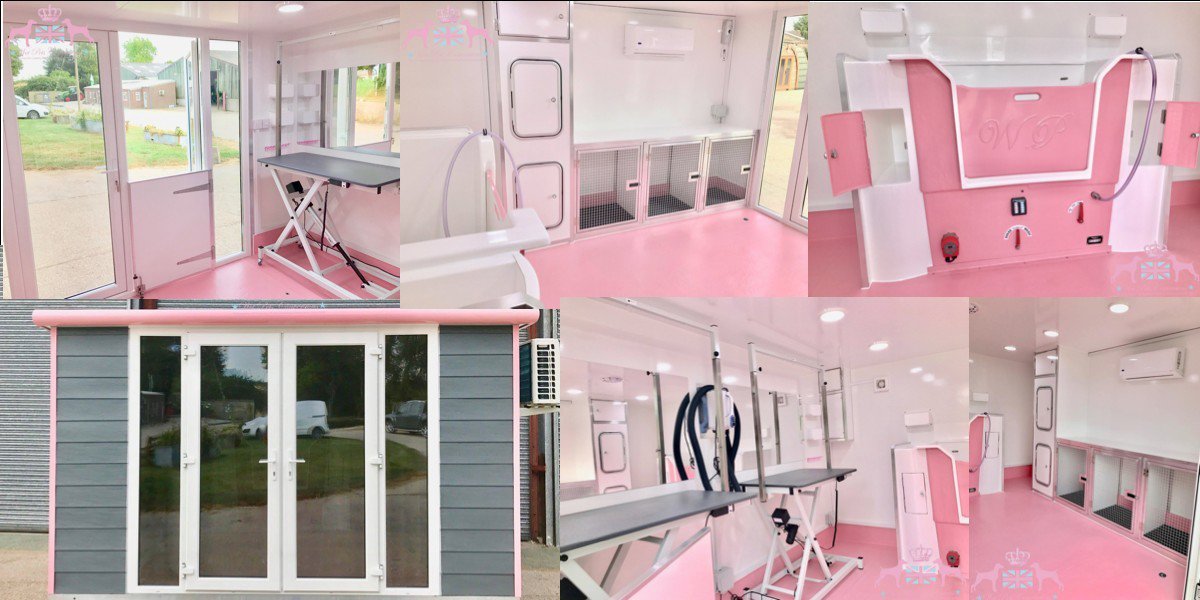 Check out some of our latest videos!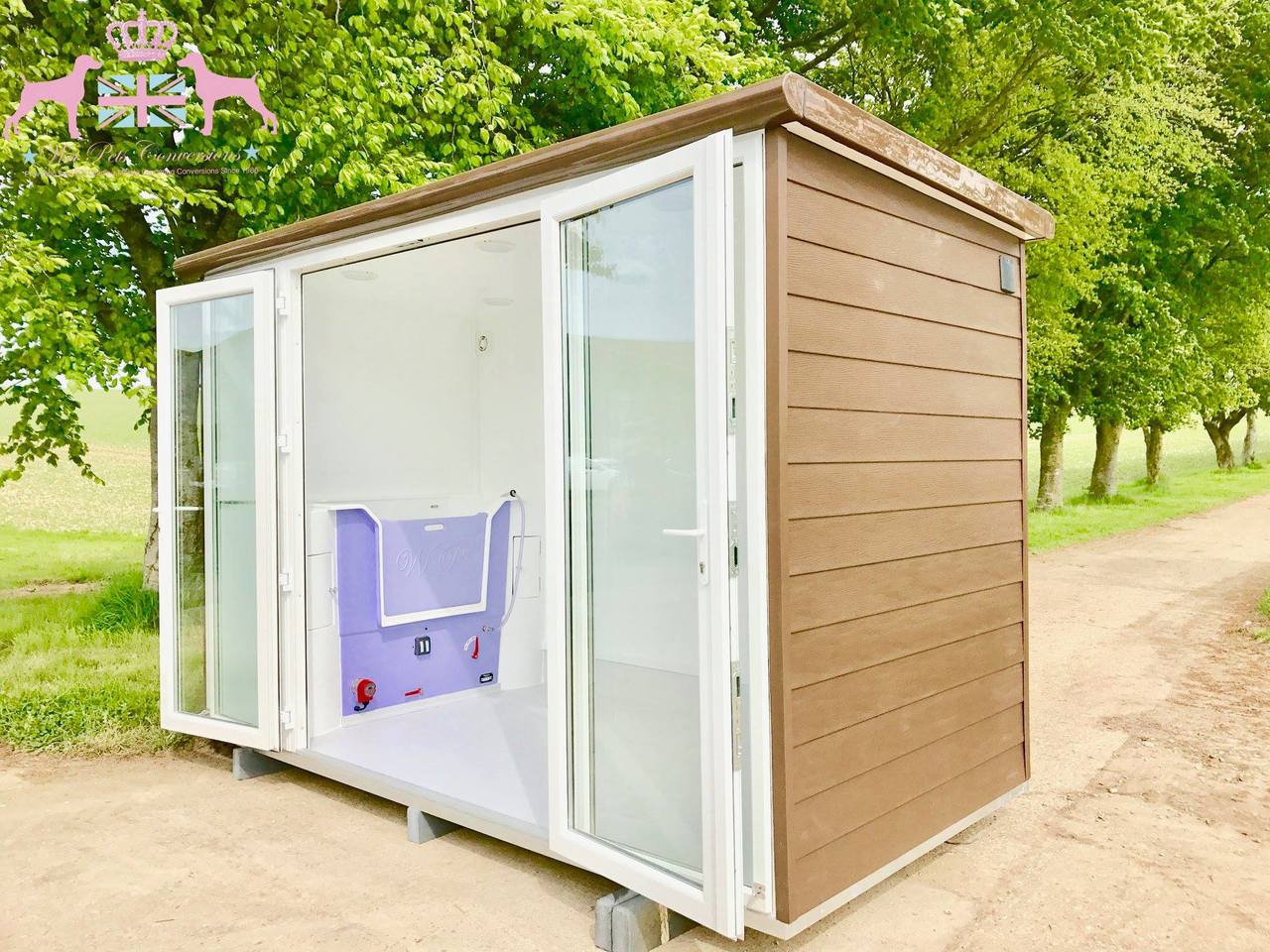 Please see our prices below - from a standard building with electrics and lighting to a full grooming salon, we can provide it all...
Every g:room is built from our Revolutionary insulated and sound/waterproof panel but you can hand pick what goes into pod. Interior floor colours and external capping can be any colour you like and the standard external finish is white gloss GRP.
Pod Prices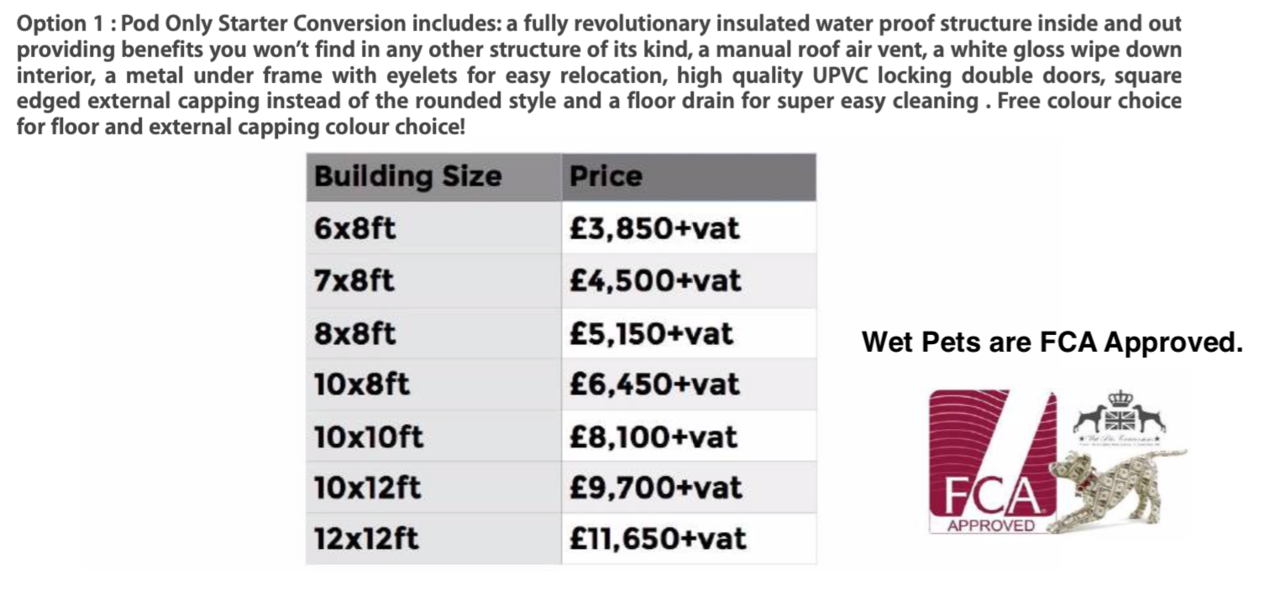 Finance Available on all of options.

Finance Available on all of options.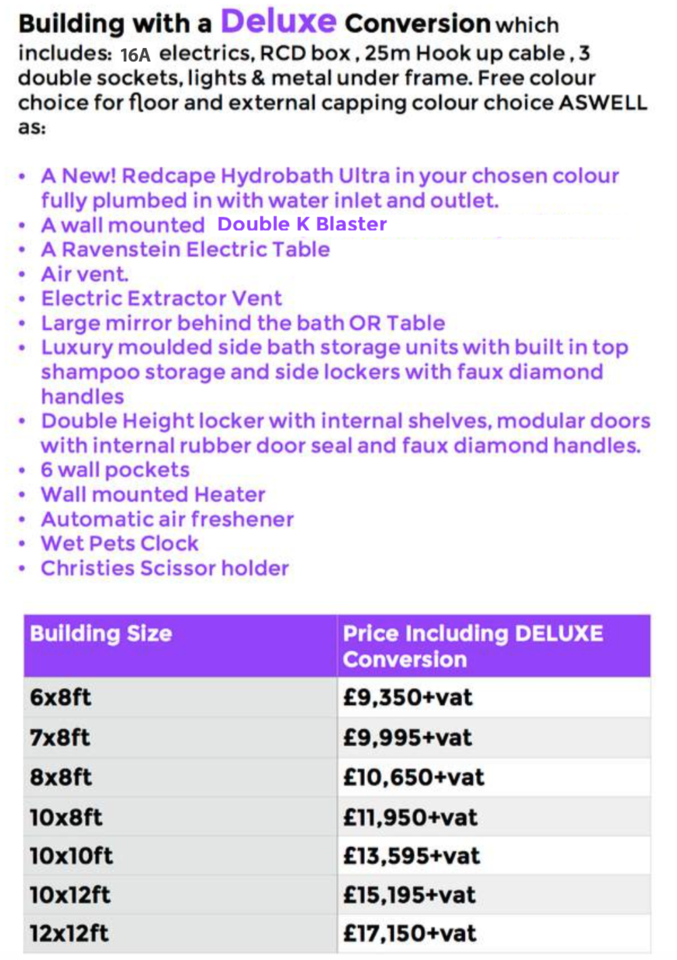 Finance Available on all of options.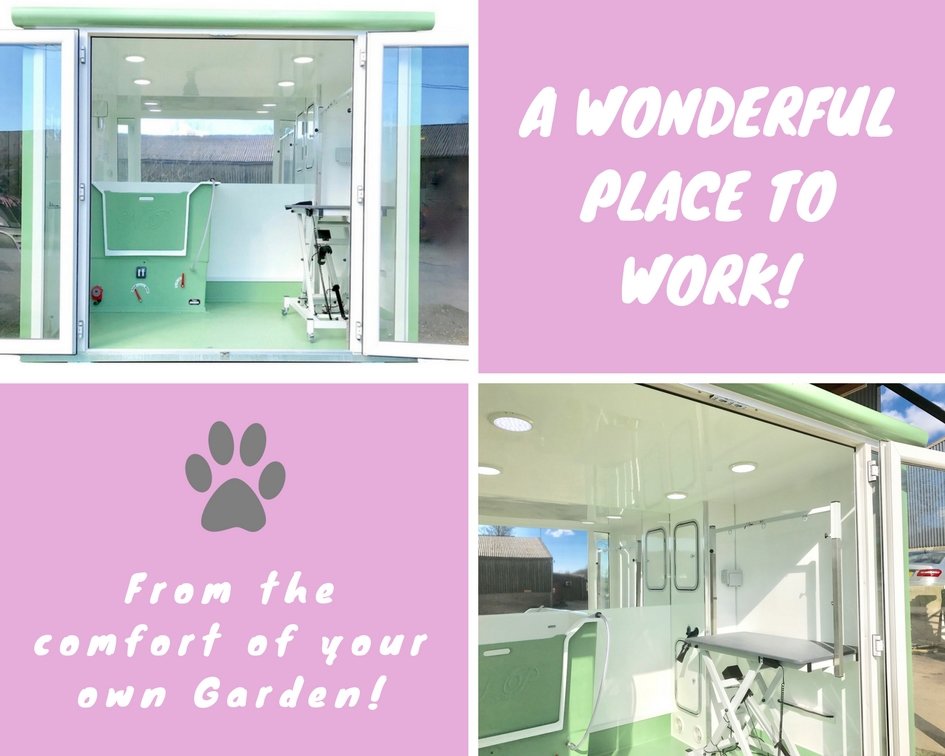 Fancy something a little different?

No problem! Aside from our g;room range we can build a huge range of different designs to exactly fit your needs and please see some examples below...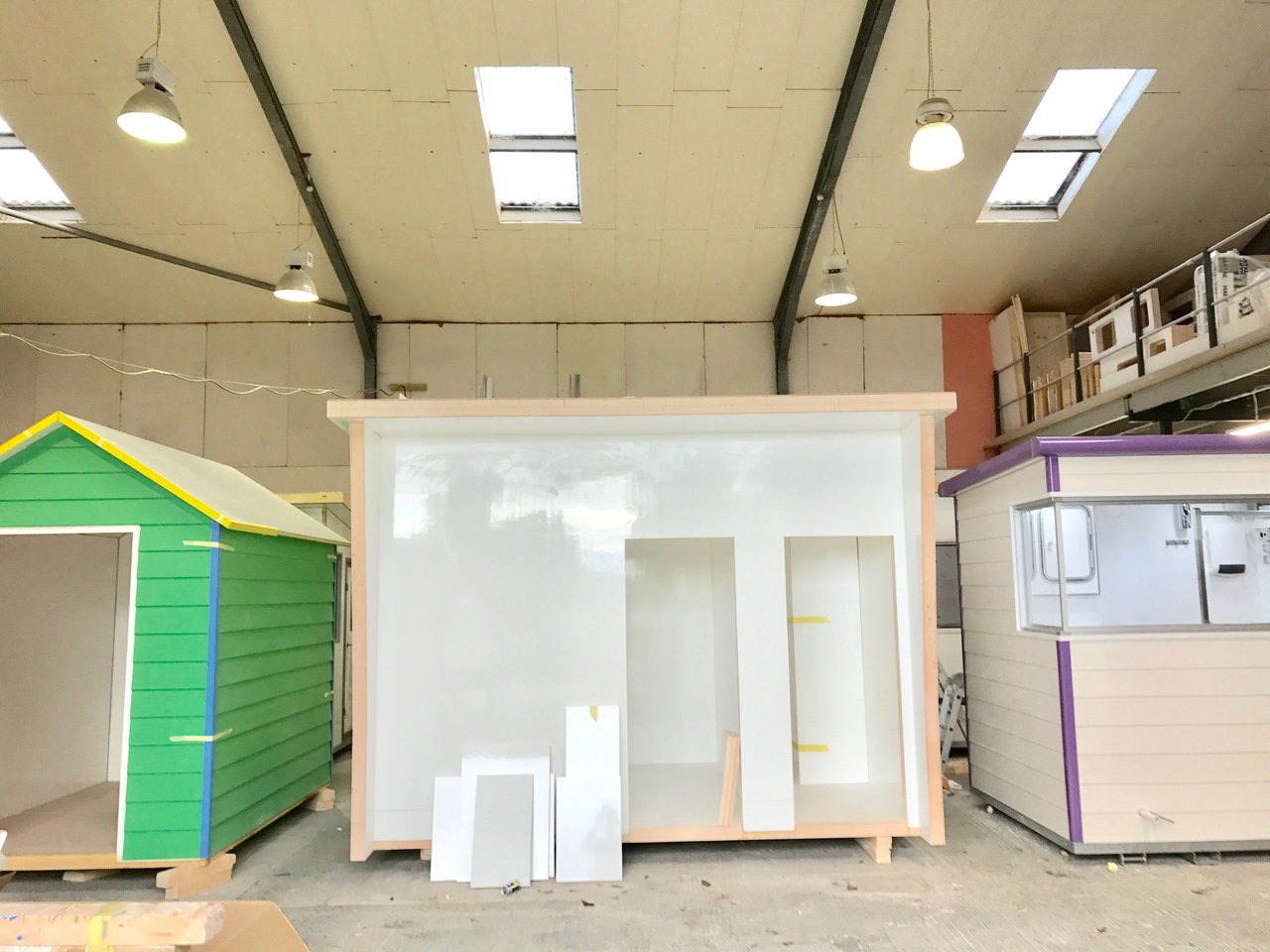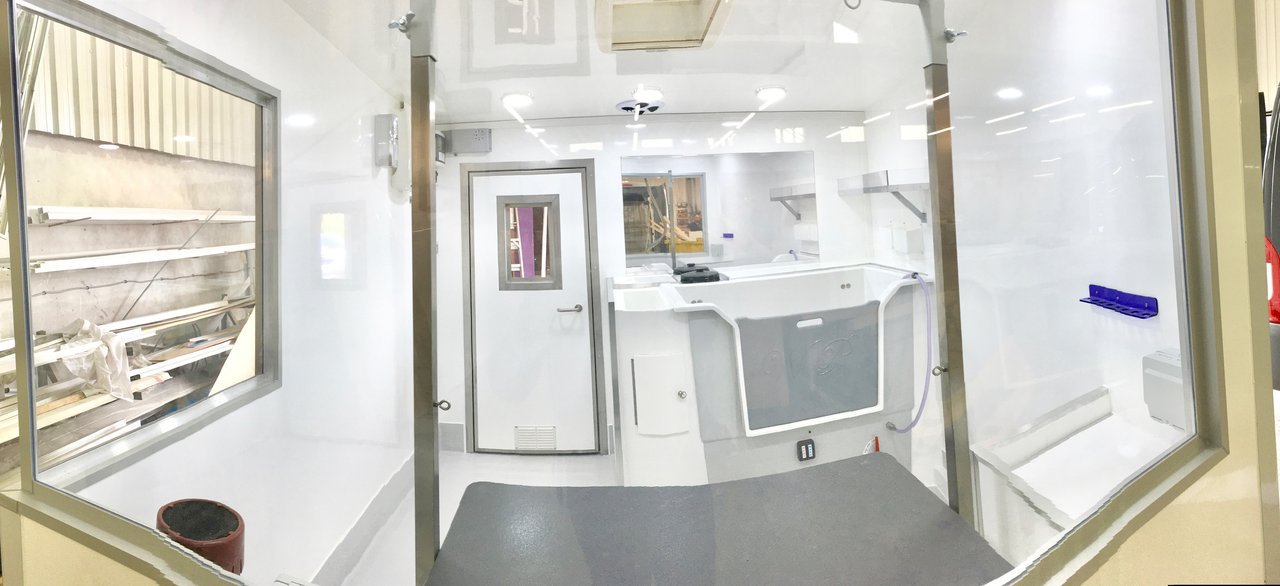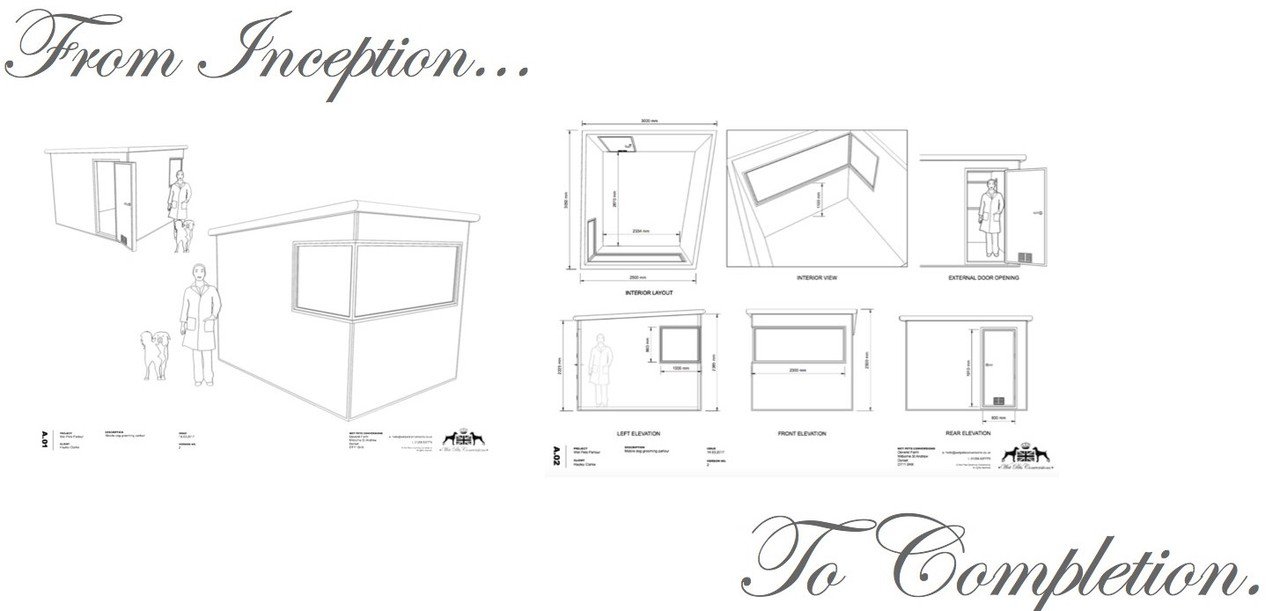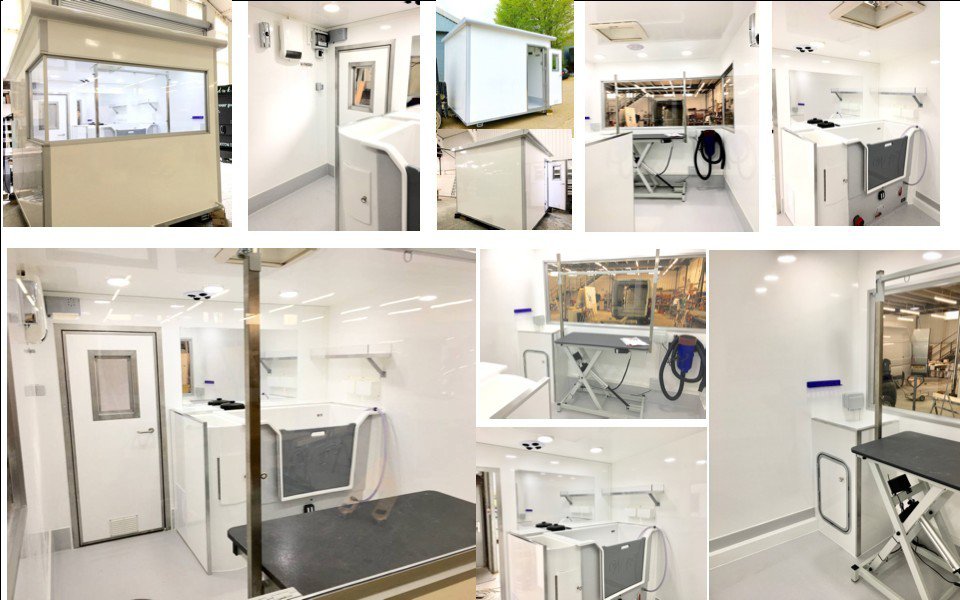 Each Parlour is made using a unique process, panels are made in one piece upto a maximum size of 10 x 3.5m, this reduces the number of joints needed ensuring a structurally stable, lightweight, watertight and strong structure with unbeatable thermal
properties.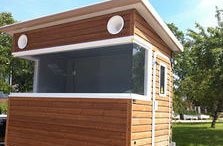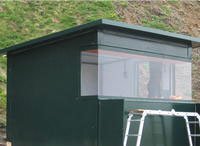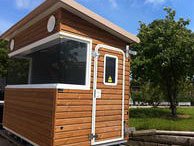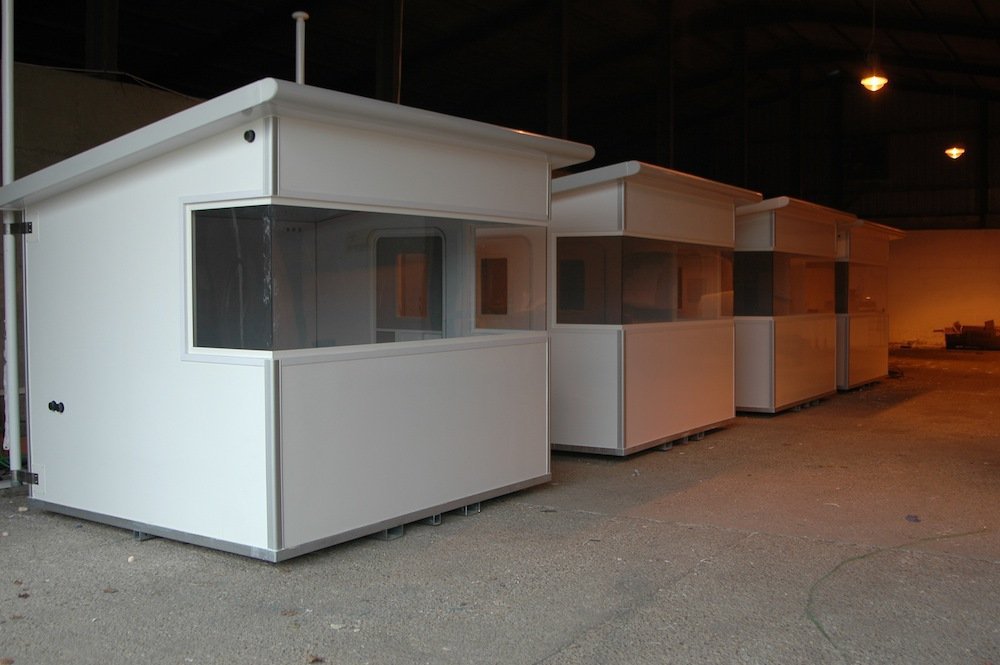 Buildings can be completely pre-made and simply craned into place - subject to sizes and access, resulting in minimal disruption to your home.
Made from our Revolutionary 'VSIP' Panels


Unbeatable thermal qualities

Superb sound insulation

Normally no planning permission required*

(*Depending on size & location)




No concrete foundation required

Delivered complete & portable

Can be easily moved

Built to any size & specification

The Design Process

Each and every project is underpinned by the highest levels of Service and aftercare, that reinforce the decision to own a Wet Pets Parlour.

The Build: The floor, walls and roof are made from our unique Structurally Insulated Panels. This ensures that the whole building is structurally stable, waterproof and provides unsurpassed levels of insulation. This helps to keep you warm in Winter and cool in the Summer.

Exterior: We have a wide range of finishes, whether it be timber cladding, such as Thermo-wood or Western Red Cedar, painted, stone, eco wall or a modern panel system for a more contemporary look.

Interior: From traditional plaster to attractive wall panel systems, a range of finishes from brushed Metal to Amazonia Linewood are available.

Lighting: Low voltage LED lights are included as standard but a limitless choice of lighting is available.


Flooring: A standard waterproof non-slip floor is included A choice of solid wood, engineered wood, laminate, tiled

or carpet is offered.

Heating/Cooling: A climate control system or under-floor heating are our most popular choices.

Windows & Doors:

A full length fixed window is included as standard with a modular door. Bi-fold, Patio or French doors with a huge range of windows are available in a powder-coat colour of your choice.

Power: Just plug into your home power supply and you are ready to play! Our special outdoor plug system enables you to use a

standard 3 pin plug attached to a purpose built 25m cable to plug directly into a plug in your home, providing the supply of energy for your parlour. Internally, there are three double sockets and a British Safety Standard RCB unit that protects your electrical s

upply and provides you with maximum safety standards.

Check out our Parlour Packages!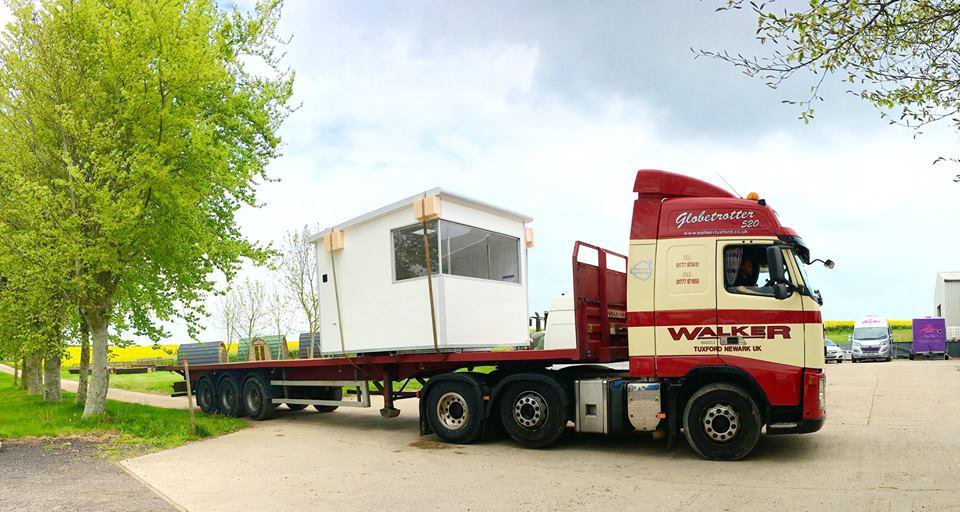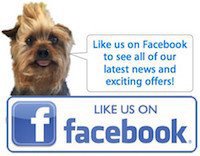 Pet Grooming Parlour Contact
If you like what you see with our grooming van conversions, call us today on 01258 837779, or email us at hello@wetpetsconversions.co.uk. Contact Wet Pets Conversions today or alternatively simply fill in the form below and press submit and we will get back to you shortly regarding your enquiry.
Contact Wet Pet's Conversions