News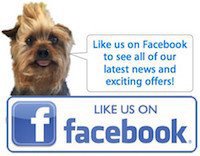 We are thrilled to announce that a Wet Pets van has won MASTERGROOM's prestigious "Mobile Grooming Van of the Year 2017" for the second time in a row! This years winner was the fabulous Elegant Pets Mobile Spa owned by the lovely Victoria Clarke! A Wet Pets van also came 3rd - Polished Pets owned by the lovely Alison Jarrett! Well done guys, we are super proud of you and thank you to all of our other lovely customers who entered their vans xx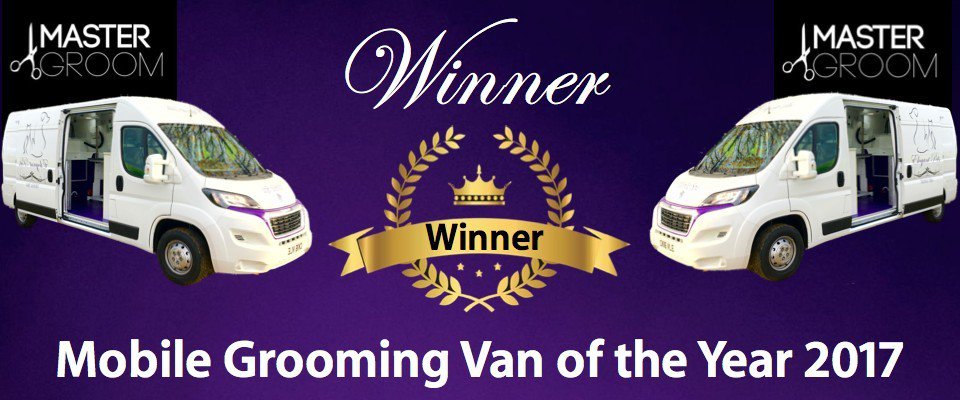 27.4.17
As a fully FCA Approved Company, we are able to offer you a wide range of Finance options tailored to fit your exact needs and budget.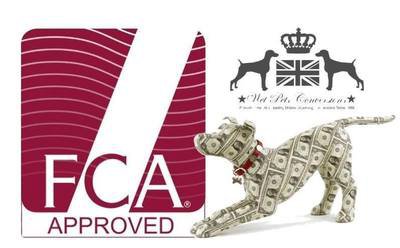 21.12.16
A Truly Tropical Conversion! This Fabulous 2012 Reg Silver Citroen Relay was whisked off yesterday to its new home with the lovely Angie from Gloucestershire! The conversion included a Deluxe Conversion with a Tropical feature wall instead dog a mirror, a sand coloured floor and bath, a custom double front cabinet with drawers, a wall mounted towel cupboard, a Generator Package, Doggy and Full Height Kitty Door guards for cat grooming, a Bulkhead Window and full external sign writing. Angie doesn't just groom Cats and Dogs, she also grooms Rabbits, Guinea Pigs and many other domestic pets for A truly all round service! We REALLY love this van! and wish Angie many Sunny and happy years of grooming! xx
"absolutely lovelovelove my van. Huge thank you to the fantastic team. Merry Christmas all x"

Angie Ennis

20.12.16
This awesome L4 H2 Peugeot Boxer was delivered on Saturday to the lovely Liz from Chester. Fitted with our Self Powered Standalone conversion, custom corner cabinet with a Porta Loo, Sign writing with a matching turquoise interior , Doggy Door Guards, a rubbish bin and a Skylight. Wishing Liz many years of Happy Grooming xx
"Thank you to all the lovely team at Wet Pets. You are incredible! My van is amazing. The attention to detail is second to none. SO happy to be finally

#

mobile

#

grooming

😀

🐾

✂

🚐

vroom2groom xx"
Liz Carter

19.12.16
Wowee! Many thanks to Redcape Grooming Supplies for our lovely M&S Hamper Christmas present! Spartacus's eyes nearly popped out of his head and he's already offered to sleep inside the hamper and "guard it" - yeah right!!! Thanks again for a such a lovely gift and for being such fantastic suppliers! (we get presents and get to fit the best Hydro Baths in the UK in our conversions! Win Win!) x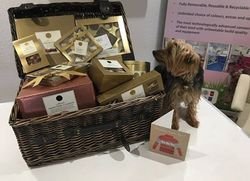 15.12.16
Heres one of our brand new Aero Curve° Trailers! This lovely 10ft Trailer was delivered yesterday to the lovely Jane from Taunton. Fitted with our Deluxe Conversion in Purple with Purple colour matched exterior cappings, Full height Kitty Door guards for cat grooming with detachable Doggy Doors, a Hand Sanitiser and Julies Logo Sign written to the outside. You can see how lovely, light and airy these are even without the lights on and you get a huge side window as standard for a groom with a view! Our new Aero Curve° reduces fuel costs and increases the drag coefficient of the trailer! Wishing Julie many happy years of grooming xx
"Just got to say we ve had the trailer a week now and it is everything we need an absolute joy to work in and the doggies love it too"
Julie Gratton.

13.12.16
Introducing the Aero Curve° - The latest innovation in Grooming Trailer Design, our Revolutionary curved panel and custom capping create an aerodynamic profile that improves the drag coefficient of the Trailer, improving its efficiency and reducing your fuel costs during towing.
Exterior capping can be created in any colour to suit the interior of your trailer or match your logo.
The Aero Curve° is now included as Standard on all of our Trailers and Chassis based Parlours.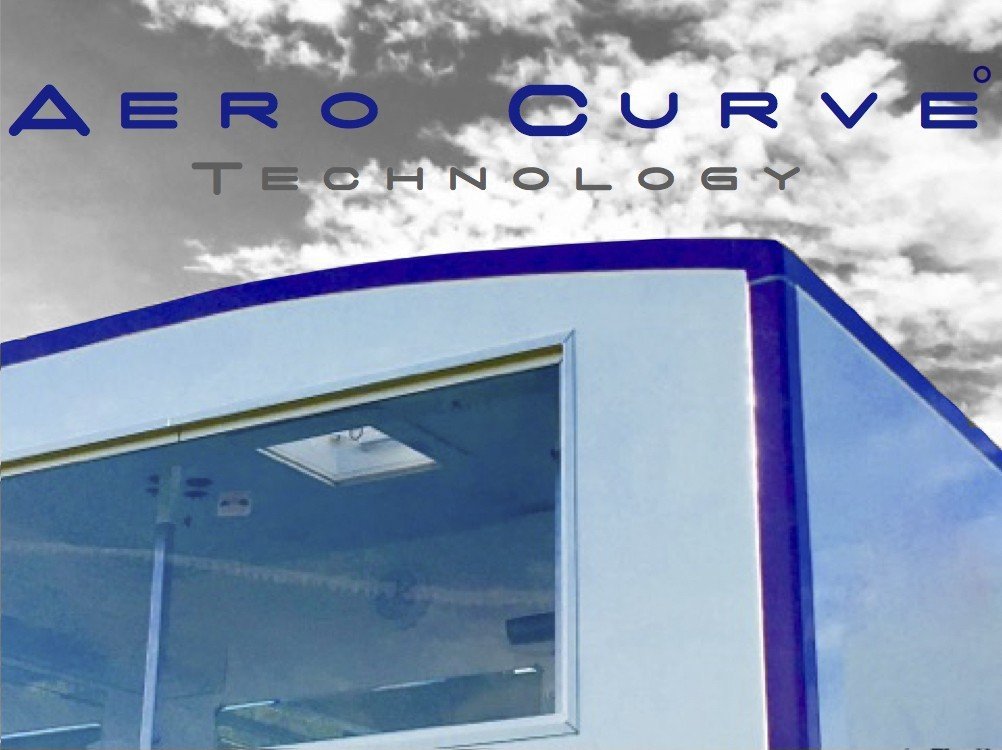 12.12.16
Oh Wow! Heres a sneak peak of a van we're working on at the moment with a full length feature wall and sand coloured floor for the lovely Angie! Even when its raining outside it will be totally tropical inside! Now wheres those Pina Coladas...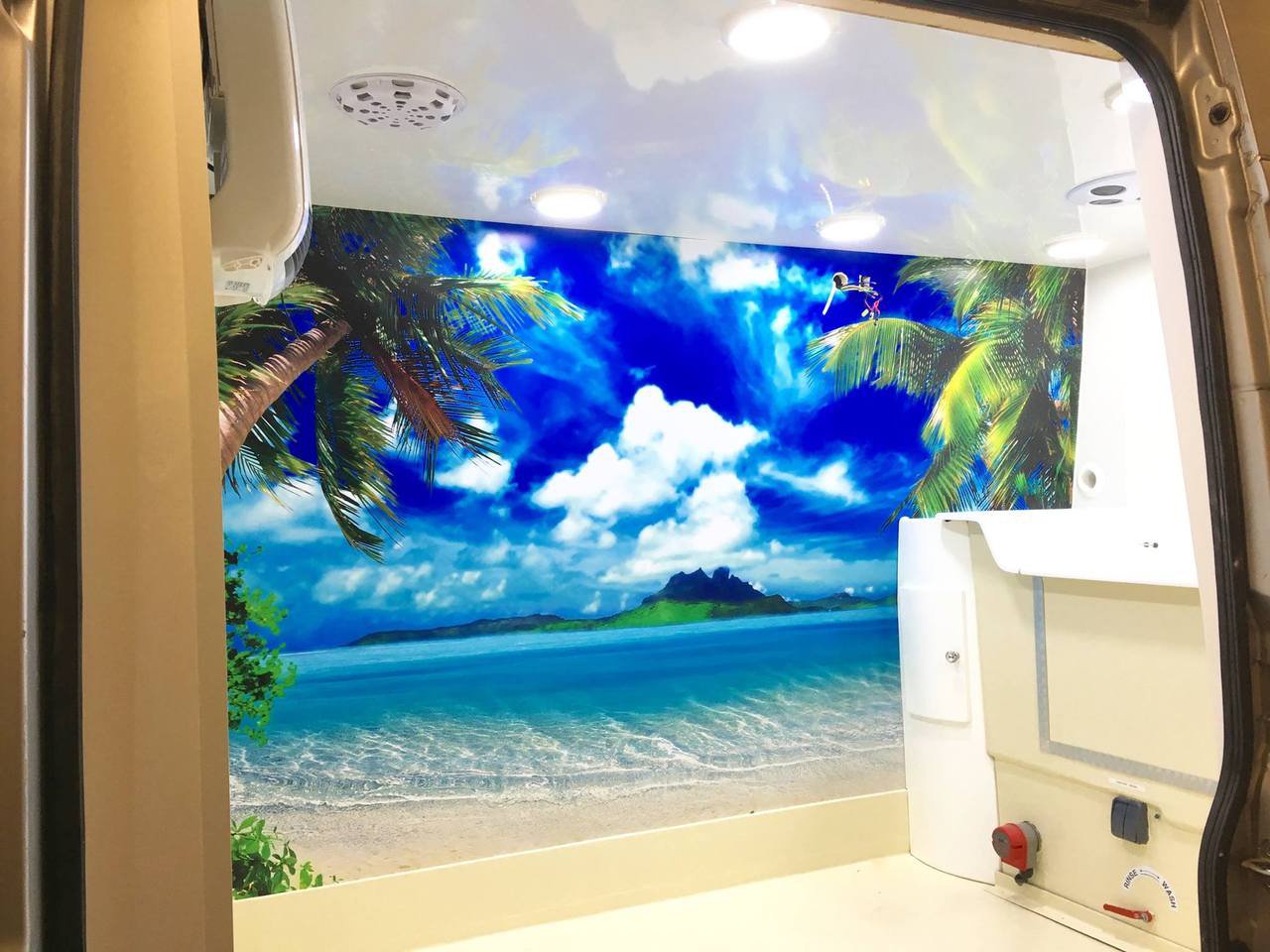 5.12.16
In between writing Christmas Cards, Spartacus has also managed to decorate our Christmas tree ( he must have abseiled down from the ceiling "Mission Impossible" style to get that Bow on the top!) its a shame he couldn't have swept up afterwards, and there seems to be a Candy Cane missing...!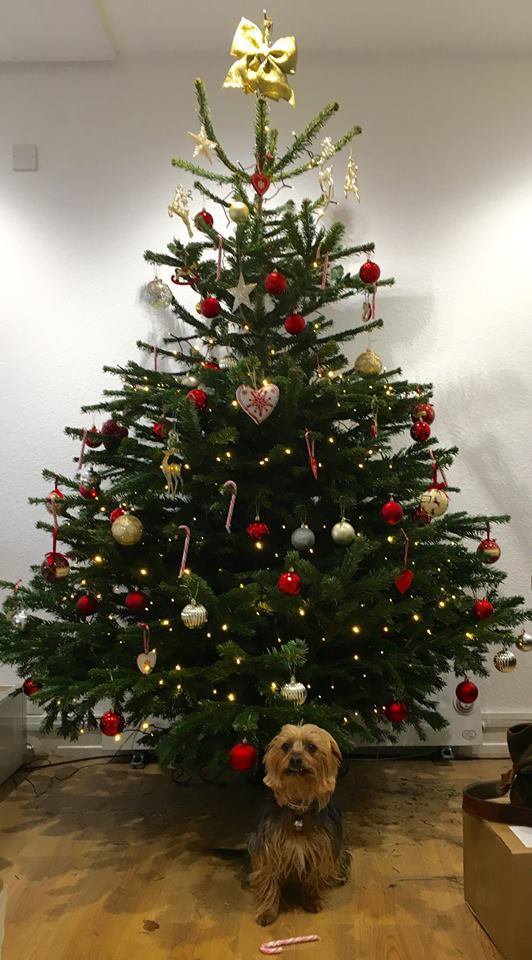 2.12.16
Spartacus has been very busy writing our Wet Pets Christmas Cards today, his paw writing has come on leaps and bounds! xx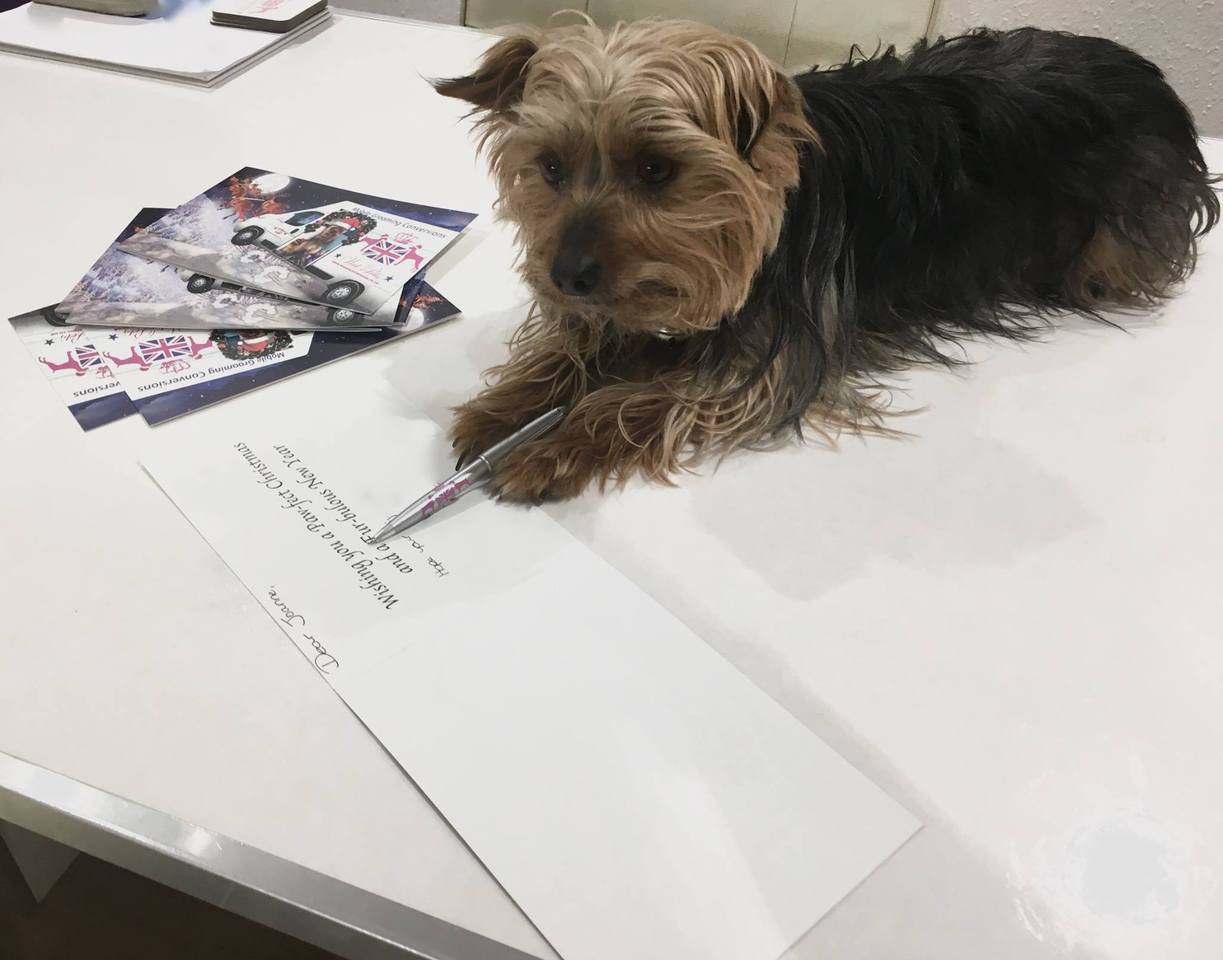 1.12.16
Another lovely Brand New Silver Medium Wheel Base Peugeot Boxer was delivered to a customer today! Fitted with a completely Bespoke Interior in light blue with a Christies Electric Table, Simpsons Tornado Takeoff Dryer, a wall mounted Rubbish Bin, Opening bulkhead Window, Large Skylight, Side bath storage, A mini AC system, a First Aid Kit, a Fire Extinguisher and our Doggy Door Guards! xx

30.11.16
We managed to catch a few shots of this lovely Brand New Medium Wheel Base, High Roof Peugeot Boxer before it was whisked away to the lovely Jessica in Hayling Island! Fitted with our Deluxe Conversion, full external sign writing using Jessica's fab logo, a matching purple interior, a white bath, custom eye level side tinted opening windows, 2 front bulkhead anchor points with a strap for Jessicas work trolley, and a Diesel Heater fitted for instant unlimited hot water with timed loadspace heating via a Heated Towel Rail. Wishing Jessica many years of Happy Grooming! x

18.11.16
This stunning brand new L3 H2 Peugeot Boxer went to its brand new home yesterday with the lovely Victoria from Waltham Abbey, Essex. Fitted with our Revolutionary Self Powered Standalone Conversion, with a heated Airing Cupboard, heated Towel Rail, full loadspace heating with timer (so it can warm up your van whilst your still in bed!), a wall mounted Dryer Arm (which is strapped back during transit) ready for Victorias own blaster, Doggy Door Guards, full exterior bumper and wing mirror colour coding and colour strip, a custom Corner Cabinet with a built in Porta Potti, a custom dark purple interior and full colour matched external sign writing in glitter vinyl. We love this overall look and Victorias Classic logo design really sparkles in the sunshine ! Wishing Victoria many happy years of grooming

:)

xx
"Would like to say a massive thank you to the whole team for doing such an amazing job we love it!" Victoria Clark.

17.11.16
We managed to grab some pics before the sunset of this awesome brand new black L3 H2 Peugeot Boxer that was delivered today to the lovely Tracey from Cambridge. Fitted with our Deluxe conversion, Reversing Camera, Doggy Door Guards and pastel purple interior to match her existing sign writing design. Wishing Tracey many happy years of grooming

:)

xx
"I just want to say thank you so much, my van is amazing and I had lots of fun yesterday getting to know how everything works. The quality of the work and finish is very impressive :) "
Tracey Marsden.

16.11.16
This fab 13' Plate LWB HR Citroen Relay is being delivered tomorrow all the way to the lovely Audrey in Dundee, Scotland! Fitted with our Deluxe Conversion with Doggy Door Guards, our Generator Package and finished in Audreys favourite Burgundy colour. Wishing Audrey many years of Happy Grooming

:)

xx

5.11.16
Well its that time of year again! - "The most Wonderful time of the year!" and we've been busy here perfecting Spartacus's (our Wet Pets mascot) best Mariah Carey impression! (- he tried to turn into a little Diva and wanted his dressing room filled with sausage rolls and squeeky toys! ). We hope you love our Wet Pets Christmas Commercial as much as we do!
4.11.16
Exciting News!




As a Company we strive to include the best products in the business inside our van conversions as standard and we are thrilled to have secured this fantastic new update thanks to our friends at Redcape who are the sole UK Ravenstein Distributors. Heralded as the best Electric Table on the Market, we are pleased to announce that the Ravenstein Professional Electric Table (normally offered as an upgrade) is now included AS STANDARD! in every Wet Pets Bespoke, Del

uxe and Standalone conversion! With an RRP of £895 this super strong and robust table offers unrivalled quality and a remote controlled super smooth action with a Heavy duty adjustable H frame. A Hydraulic option is still available at no extra cost.

Heres what Redcape have to say about it "We love this table ! super strong, robust and highly recommended for the professional groomer. Ideal for everyday use, top does not 'creep' to the side to provide better use of floorspace and will give many years of trouble free use. Smooth operation control complete with heavy duty H Frame which is fitted into the solid frame of the table (no clamps). High quality non slip rubber top. Adjustable feet for levelling on uneven floors. Top Size – 43.5" long x 23.5" wide!

KEY FEATURES:

• Powerful electric linear actuator (6000N)

• Anti-slip worktop - 43.5"x23.5" (110x60cm)




• Hand held remote control operation




• Heavy duty adjustable control frame




• 2 year limited warranty




SPECIFICATION:




• Lifting capacity = 125kg




• Height adjustment = 17.5"-40" (45-102cm)




• T.P.I. = 125w @ 220/240v ~ 50Hz "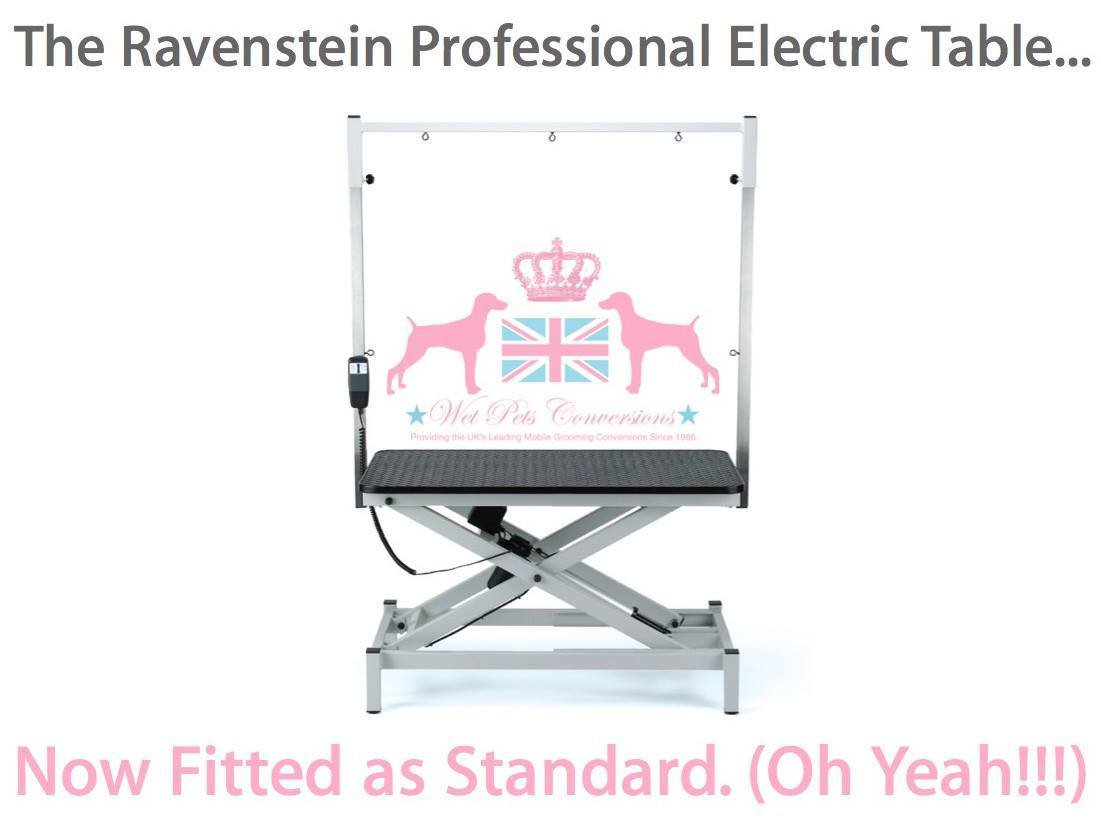 3.11.16
This stunning Brand New Lwb Hr Silver Citroen Relay was also delivered today to the lovely Sue from Wigan. Fitted with our Deluxe Conversion, Doggy Door guards, full exterior colour coding of front and rear bumper and wing mirror spray with internal colour matching front strip,an Electric Step, external sign writing and decals on the Doggy door guards, a custom double front locker with drawers and our lovely standard blue colour floor and bath. We love Sues sign writing design and how cute is that Pooch! - the Door Guards are a great area to sign write too! It has been a real pleasure working with you Sue and Happy Grooming! xx
"

Wet pets are amazing. Product and staff are second to none"

"Thank you so so much to you all for my fabulous conversion. I absolutely love it. It's all stocked and read to roll for next week. Thanks again.

🚚

✂

🐶

🐩

🐕

🚿

😜

x"

Sue Courtney

2.11.16
We managed to grab a few shots of this fab LWB HR Transit that was delivered today to the lovely Morris from Essex. Fitted with our Deluxe Conversion and Generator package with Doggy Door Guards, Chrome door handles instead of faux Diamond, a Bulkhead Opening Window, An Side load door tinted opening window, a Skylight and a lovely dark purple interior. It has been great fun working with Morris and we wish him all the best for the future and many years of happy grooming xx
"It looks Mental! I love it!"

Morris from Chigwell.

28.10.16
We delivered this awesome Black and Orange 10ft Trailer this morning to the lovely Kim from Surrey! Sprayed in a high gloss black finish, with a custom orange Deluxe conversion inside and full exterior colour matched sign writing this trailer is sure to turn heads! We managed to grab some pics while it was being sign written and even outside without the lights on you can still still how lovely and bright they are inside - with a wonderful full length window for a groom with a view! Wishing Kim lots of luck with her new mobile business and many happy years of grooming xx

27.10.16
This "Purpleicious" L3 H2 2012 Citroen Relay was delivered yesterday to the lovely Claire from Newbury. Fitted with our Deluxe Conversion (minus the table as Claire is going to fit her own), Generator Package, Doggy Door Guards and ultra sparkly Glitter floor strips! We wish Claire all the best for her new business and many years of happy grooming! xx
"Van is amazing! I love it!"
Claire Stoter.

22.10.16
Here at Wet Pets we are extremely lucky to have some of the most fantastic customers we could ever ask for and we feel privileged to be part of their exciting new ventures. We were sad to say goodbye to this van yesterday as Margaret has been such fun to deal with all the way from Switzerland! We have lots of vans throughout Europe and beyond but this in fact is our first one for Switzerland so we had a little celebration - and Margaret even brought us some Toblerone to mark the occasion! Margarets beautiful new pale gold L4 H3 van (aka "Blondie") was fitted with our Revolutionary Self Powered Standalone conversion with a special timed heater so the van can warm up in the Winter while she's still in bed!, full European Electrics, a custom front cabinet with a built in colour coded cage (so if she has 2 dogs to groom, one can wait safely in the cage), a built in Porta loo, a Ravenstein Professional table, Doggy Door guards, Champagne gold glitter non slip floor strips, an Electric Step, a lovely pale beige custom colour interior, full exterior sign writing with a famous design that Margaret had to get a Copyright for! and an AWESOME new Clipper Vac! This fantastic contraption allows you to clip the dog whilst all the clipped hair is sucked straight into this machine so there is practically zero hair to clear up after! Amazing! We popped some treats in the front seat for Margaret to make her drive a little more enjoyable too! Wishing you many happy years of grooming Margaret and thanks again for asking us to be part of your new business

:)

x
"Mine!! Brilliant! Great work with the video, thank you, looks really as beautiful as it is.!" Margaret Nell.

20.10.16
This little Citroen Relay that was delivered this morning, started his life as a WHITE Medium Wheel Base van from Leeds! - and then he was brought down to us for a full body Makeover! His lovely owner Eleanor wanted him sprayed in black gloss with full bumper and wing mirror colour coding, and her sign writing design on the exterior which included an awesome cartoon version of her own pet Bulldog! The interior included our Revolutionary Self Powered Standalone conversion (we managed to fit it in a medium wheel base easily!), a custom charcoal grey floor and bath colour, super sparkly charcoal glitter non-slip entrance strips, Ravenstein professional electric table, a moveable storage cabinet (not pictured) and some Doggy Door Guards! It looked awesome! Wishing Eleanor and her new van many happy years of grooming! xx
"

I love it!! Thank you so much xxx"

Eleanor Burden.

14.10.16
We managed to get a few shots of this Brand new Citroen Relay before it went to its new home this afternoon with the lovely Louise from Felton. Fitted with our Deluxe Conversion with a lovely custom blue interior we wish Louise many happy years of grooming in her new van! xx

13.10.16
This fab Lwb Hr Brand New Peugeot Boxer was delivered today to the lovely Richard and Michelle who live in Norfolk. We absolutely love their cute sign writing design and it matches perfectly with the interior colour. Their conversion included our Deluxe package with an Electric Table upgrade, Doggy Door Guards, full exterior Sign Writing, Generator Package and our new Groomers Friend Power Monitor. Thank you for asking us to be part of your exciting new venture and we wish you many happy years of grooming guys! xx
They were kind enough to leave us feedback:
"Thank you so so much. Michelle and myself are over the moon!!! The quality of workmanship is superb. I cannot tell you how happy we are. THANKYOU to all you guys at wetpets x""Thank you to the team @wetpets we love it absolutely brilliant van." "So overjoyed! !! It is fantastic.!!"

Richard & Michelle Wallace.

12.10.16
Check out our new Winter Warmer Package!




Imagine getting out of bed on a cold Winters morning to find your van is already toasty and warm inside without having to be plugged in over night! - plus you get the added luxury of instant unlimited hot water in the bath! Both options are already included as standard in our Revolutionary Standalone Vans but now for the first time they are available to add to any new or existing Wet Pets conversion (space depending on existing conversions). Both options are completely power independent and can be left on during your normal plug in groom without using any of the electric power! Hot Stuff!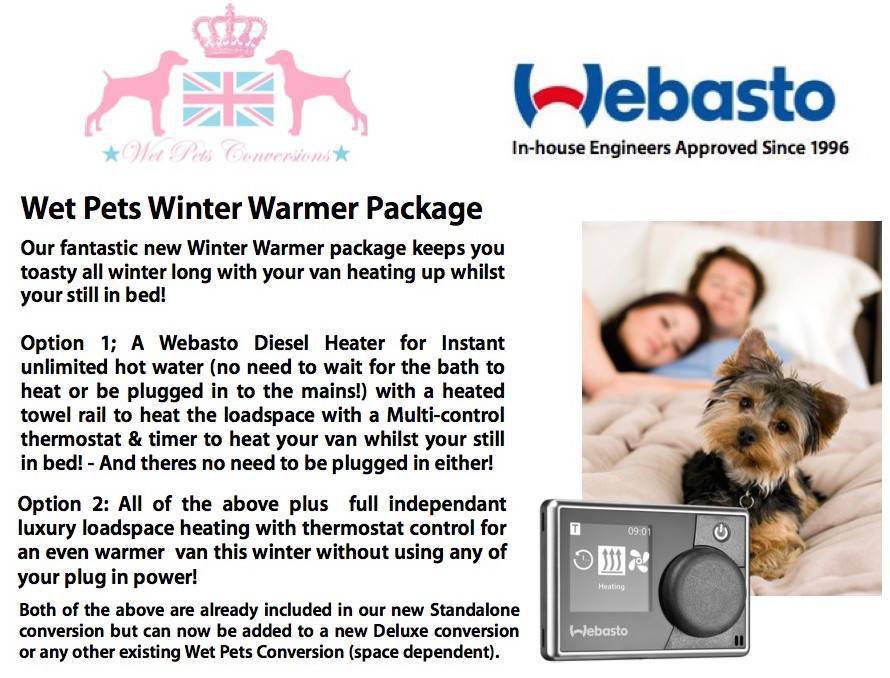 10.10.16
Wet Pets are the only Grooming Converter in the UK that is an authorised Webasto dealership with our own in-house fully Approved Webasto Engineers, guaranteeing every product install is backed with a full manufacturers warranty and the install has been carried out by extremely experienced engineers with every safety and care taken. Badly fitted diesel heaters and similar equipment can be hazardous if poorly fitted which is why we have our own approved engineers for complete quality control. We have worked very closely with Webasto (since 1996!) to develop and test new systems for them and extended warranty's are also available.

04.10.16
Wow its the week of purple Standalone conversions! This stunning brand new silver L3 H2 Citroen Relay was delivered today to the very lovely Tracey from Royal Leamington Spa. Tracey is a very experienced groomer who wanted to upgrade her current rental van to a new Wet Pets one. Fitted with our self powered Standalone conversion, Pioneer colour changing surround sound system,electric step, a custom cupboard, Doggy Door guards and a side door window. Wishing Tracey many happy years of grooming

:)

xx
"Can't wait to get started in the super new van"!

Tracey Miller.

03.10.16
This fab brand new silver L3 H2 Citroen Relay went to its new home yesterday with the lovely Julie from Stroud. Fitted with our Revolutionary Self Powered Standalone Conversion, Custom corner cabinet with a small wet/dry portable hoover with its own 12v charging socket, Porta Potti in custom housing and full external sign writing (and we put some purple ribbons on it as Julie was collecting it from us so it looked all pretty parked out the front for her!). Wishing you many happy years of grooming Julie xx
"A quick note to say thank you for the wonderful job you have done on my van. I love grooming it in, everything to hand just where I need it. Everyone who has seen it so far is very impressed. Thanks again for the wonderful job you did."

Julie Wojcik

23.09.16
This fab brand new Peugeot Boxer L3 H2 was delivered this morning to the lovely Verity from London! Fitted with our Deluxe Conversion with a Generator package, Doggy Door Guards, Tinted side door window, Tinted offside window, Custom purple interior and full external sign writing. We love Verity's sign writing design as its a great blend colour & professionalism, her logo and website:

www.dogmasters.co.uk

are fantastic too! Wishing you many happy years of grooming Verity

:)

xx
'Thank you all at wetpets. I love my van Soooo much!! Xx"
Verity Sworn.

22.09.16
If you would like to be able to groom with 360 access around the table then check out our new system which can be added to any conversion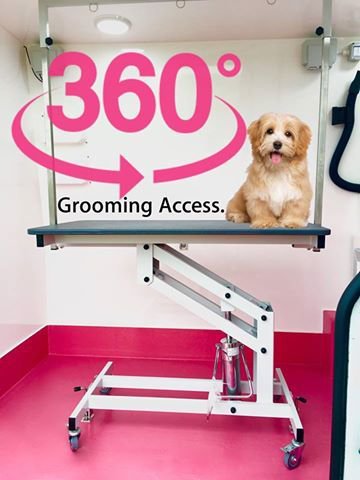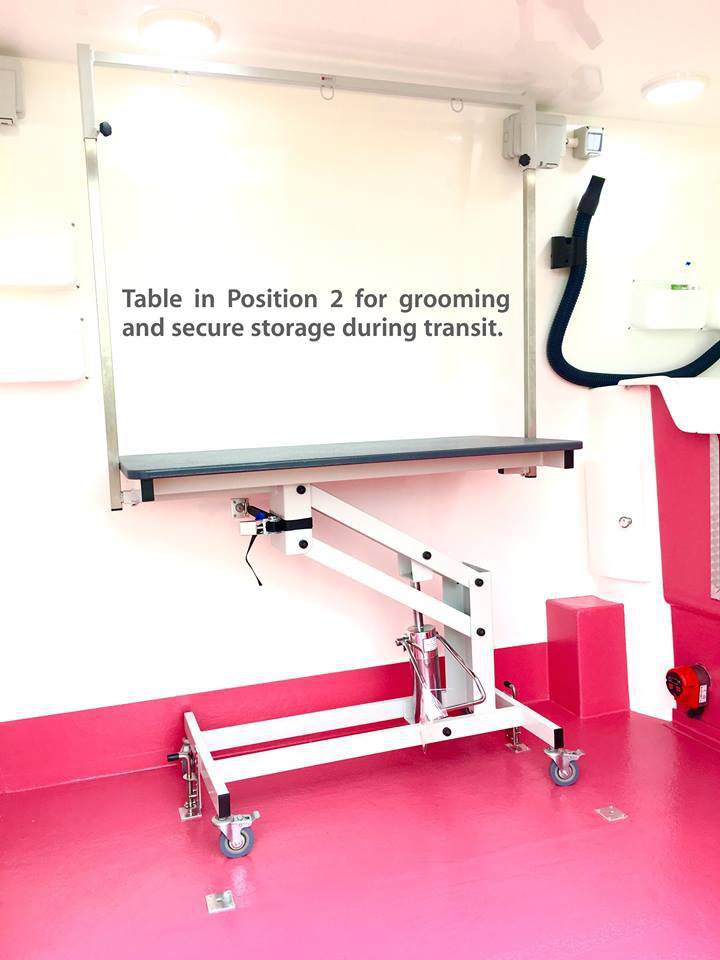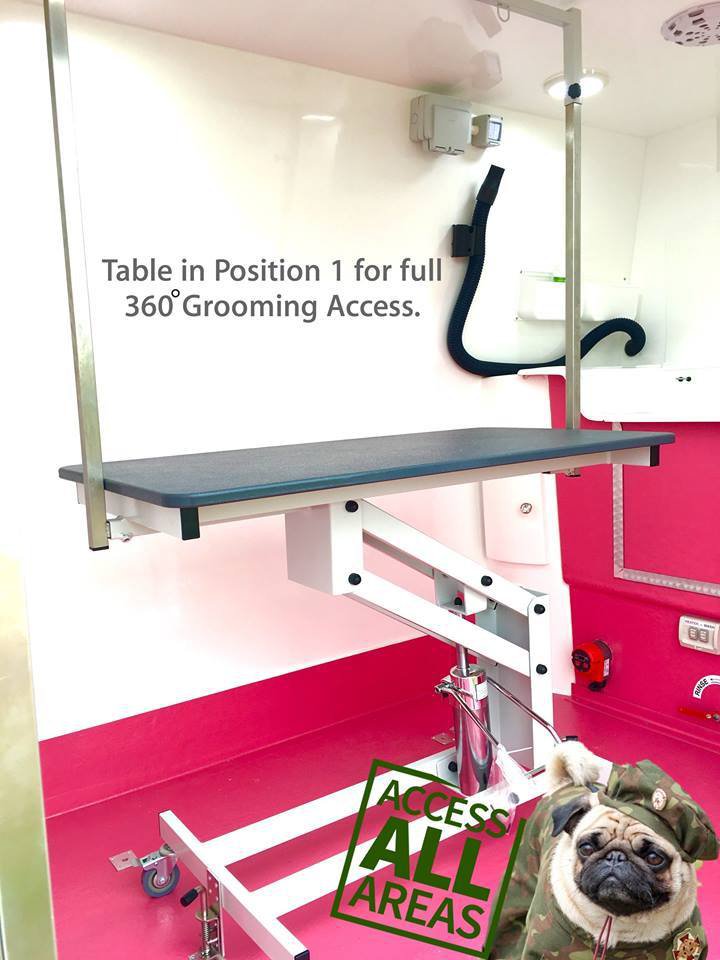 21.09.16
This lovely MWB HR Mercedes Sprinter is being delivered by us on Monday to the lovely Marina from Newport, Wales. Marina is moving from a home based salon into mobile grooming and wanted to still be able to groom with full 360 degree access, instead of the table being against the wall. We have created a new system which allows the table to be completely moveable and yet very secure during transit. Extra Strong Caster wheels were added to the table, as well as shoot bolts to h

old the table in each position. Coated floor holes were also added with metal locator plates.
This allows the table to be easily moved into the centre of the loadspace so Marina can have access all areas! During transit the table is then stored against the wall with extra long shoot bolts and a ratchet strap with metal anchor points. The conversion consisted of our Bespoke package with a custom hot pink interior, Side bath storage units, a wall mounted towel cupboard, Doggy Door Guards and Generator package with the fitting of Marinas own generator. Wishing you many happy years of 360 degree grooming Marina! xx:)

19.9.16
Oh wow! This awesome Lwb Hr Mercedes Sprinter is something a little bit different! The very lovely Shelly & Samantha from Basildon in Essex are sisters who wanted to take their salon based business mobile and work together from the van (They are so nice that they even let company mascot Spartacus pose in their van to demonstrate the interior!). Their dream layout included a purpose built fixed work top with heated cages underneath just like their previous salon had - and we

built them just that! Built from our extra strong insulated panel we created this fab double work station which was built to the exact size of 2 full length grooming tables. The work top has an independent anti-slip rubber matting top (not pictured) for maximum stability during grooming and easy cleaning.
The cages include recessed locks (as seen in the left cage, the right hand cages were fitted after photos), colour coded doors and frame work, a raised floor and a wipe clean interior. Each cage has a divider so that you can turn the 2 large cages into 4 smaller ones if needed without the dogs seeing each other. Directional recessed air vents blow warm air into each cage to reduce the drying time of each dog and are controlled with 2 different speeds depending on requirements. Mirrors were replaced with a row of extra strong rotational anchor points and we fitted Shellys own Simpson SupaJet dryer to a special wall mounted arm to maximise space inside and increase its usability. 2 work stations were created for each groomer with dedicated wall pockets and scissor holders and the rear blaster and wall mounted dryer reach each end of the table. Over cab storage was created with a bespoke in-cab headliner finished in black leatherette for a seamless finish. The conversion included our Revolutionary self powered Standalone system for full independent power and was finished in a custom shade of blue to match their exterior sign writing. We have loved being part of your exciting journey guys and we wish you many happy years of grooming xx

16.9.16
This fab 10ft Trailer is being delivered by us tomorrow to Scotland for the lovely Jane. Fitted with our Deluxe conversion with a custom blue interior with matching exterior capping, Jane informed us that she was around 5ft tall so wanted shelves etc and controls within easy reach, so we created a custom height interior just for her.Even without the lights on you can see how nice and light and airy these trailers are inside and with the full length side window you can groom with a view! The business is lovingly named after her late dog "Bracken" and our sign writing designer worked with her to create the subtle yet attractive design she was looking for - we think Bracken would love it! Wishing you many happy years of grooming Jane xx
Ace, thanks Emma! I'm loving the lighting and the blue inside!! xx
Jane Findlay.

14.09.16
The only way is ...Calling All Pawz! Our fab customer Anna had the lovely Nicole Bass from Towie and her very cute dog stop by! We bet all the other un-groomed pooches in the area were "Well Jel" !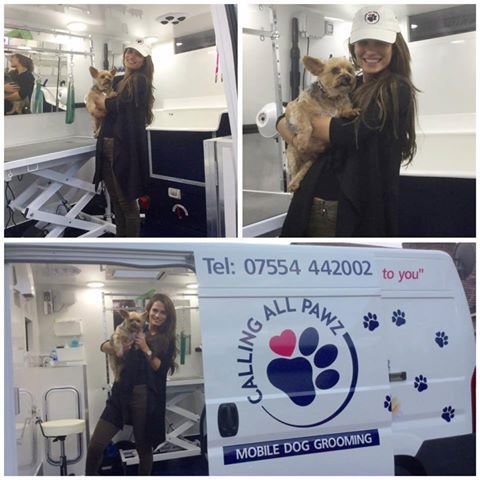 13.09.16
Wow our lovely customers at Love My Hound have opened up their new shop with the same matching decals as their van! Doesn't it look fab!

12.09.16
Just a few reasons why we love the new Redcape Hydro Speed Spa...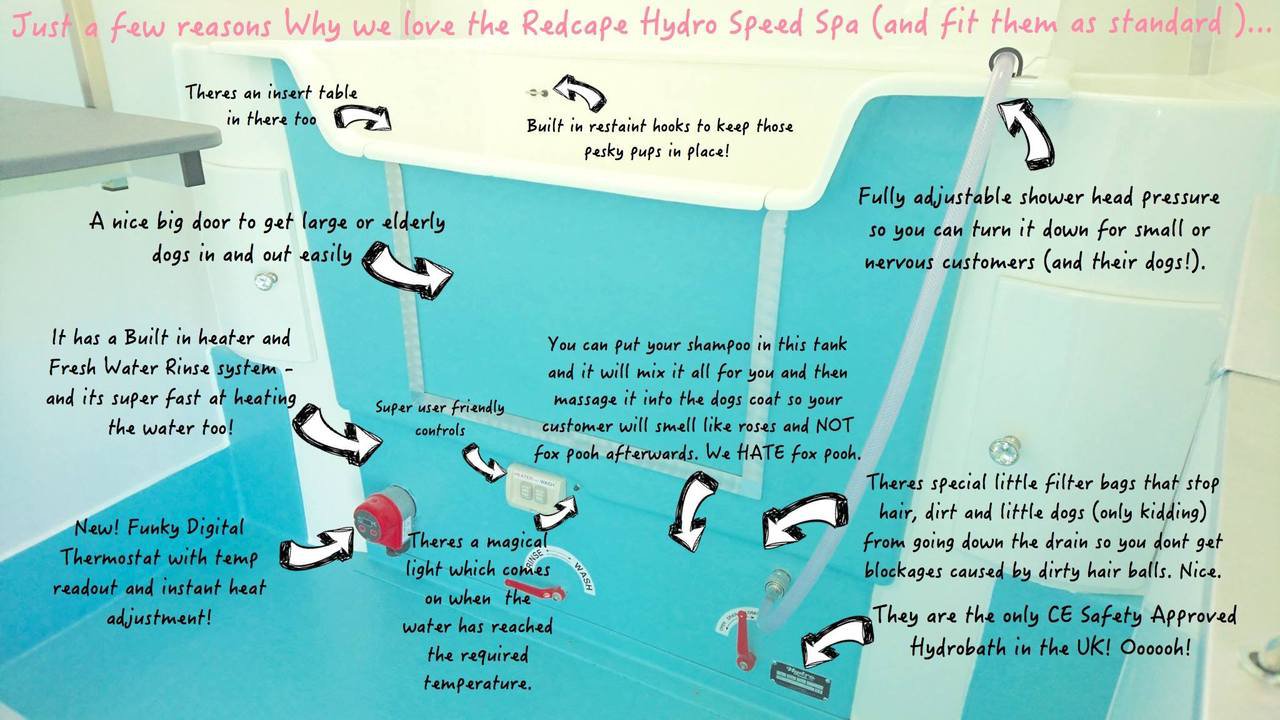 07.09.16
This lovely LWB HR Ford Transit is due to be delivered tomorrow to the lovely Diane from Hereford. Fitted with a Bespoke conversion without the table and blaster as Diane is going to fit her own once the van arrives with her. She opted for a lovely Powder Blue colour that matched areas of her sign writing. Diane wanted a Redcape bath but not a brand new one to keep costs low, so we sourced her a used one and revamped it for her - even modifying our new side bath storage to fit the older bath design. We also fitted a wall mounted dryer arm for her to fit her Stand dryer to herself. This was specially fitted with reinforced plates behind the lining to cope with the weight and it folds and secures to the front anchor point during transit. These wall arms are great as they allow you to use the Stand Dryer hands free without having them on a large stand inside the vehicle. We also fitted a tinted, opening side door window for her too! Wishing you many happy years of grooming Diane

:)

xx

04.09.16
Problem: Office dog Spartacus's wild sleeping habits meant he was frequently falling out of bed.
Solution: Our clever designers aren't just great at creating Grooming Conversions - turns out they're rather awesome at making custom dog beds too! Spartacus now has a Wet Pets Revolutionary insulated panel bed that looks like something off the Starship Enterprise - with special "anti-roll out" sides!! Amazing!

03.09.16
A new unique feature in our Deluxe Conversion is our "Groomer's Friend" Power Readout screen. This new wireless system provides real time power usage updates showing you how much electricity you are using at any one time and the power consumption of each piece of equipment used. Because you are limited to a draw of approx 3,120 watts (from any UK house hold supply) when you are plugged in to a customer's house the system will naturally trip if you exceed this amount, but our new addition can be alarmed to indicate when you are about to exceed this limit. It will also give you a fantastic view into what components you can have running at the same time - saving you the hassle of having to work it out your self. Another unique feature of this system is that it can tell you exactly how much money the groom has cost your customer in electricity and therefore eliminates any concerns they may have about plugging in and will alleviate any stress from you having to calculate it for them. What a clever little gadget!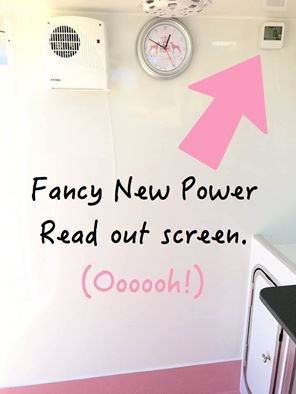 01.09.16
Included with EVERY conversion is an extra heavy duty 16 amp Artic cable with an inline RCD. This special thicker cable does not kink or coil and over heat like some normal cables and the inline RCD keeps the cable safe from issues from customer's sockets too!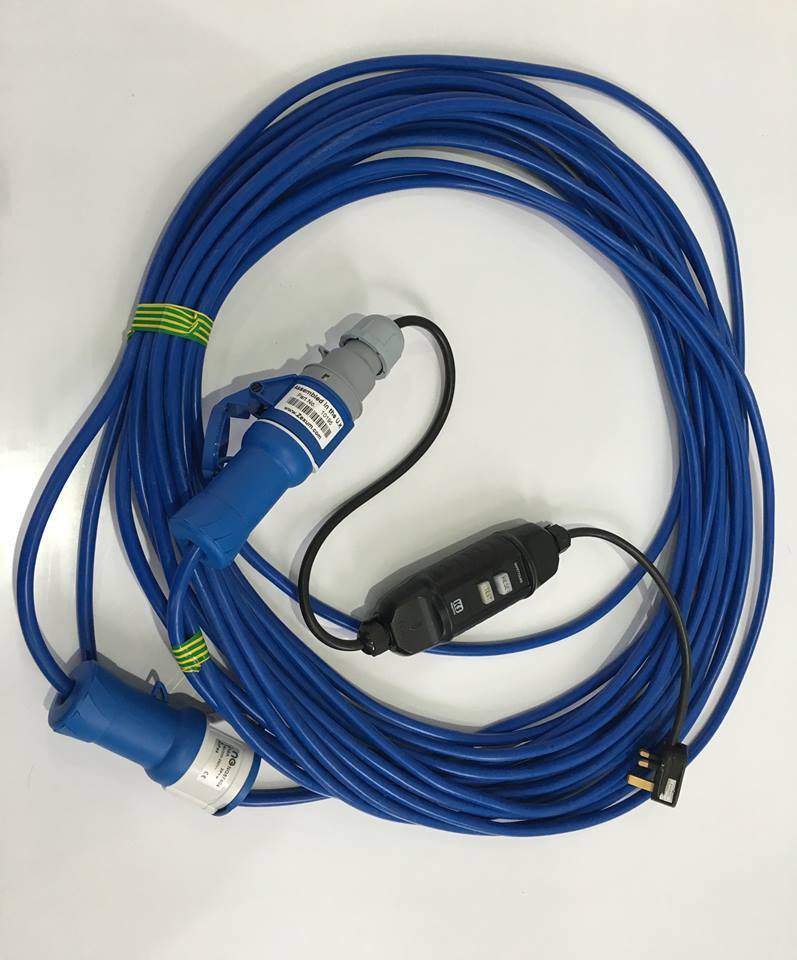 31.08.16
This fab trailer left us today to be delivered to the lovely Barbara from Reading. It was fantastic to work with her on her new venture and her 10ft Trailer included our Generator Package, Custom sky blue interior with exterior blue cappings, Doggy Door Guards with full height kitty door guards, half sized window and an electric table. Even with the lights turned off you can still see how lovely, light and airy these are to work from and a groom with a view! Wishing you many happy years of grooming

xx
"I love my trailer!!"

Barbara Nicolau

24.08.16
This awesome Brand new L3 H3 Citroen Relay was delivered yesterday to Kent for the lovely Hannah and Lisa - Creators of "Love my Hound".We were very excited to be working with them on their brilliant new business and provide a premier van that is to join their brand new pet boutique and salon all finished in this very eye catching exterior design and logo. The van is to offer a luxurious mobile grooming service and will also be selling exclusive products from the shop so there was a need for a special product display area. We created this in the over cab area which we lit with its own independent spotlighting, remote controlled mood lighting to display the products in different colours and a Safety glass door for optimum product display whilst maintaining a clean interior. We then continued the remote controlled mood lighting behind the main loadspace mirror and rear Lexan glass storage area to create a fully colour controlled interior. The conversion also includes our Revolutionary Self Powered Standalone conversion allowing them to groom anywhere without the need to plug in, a powder blue interior, extra large skylight, full Air Conditioning with a colour coded interior facia, Holographic Silver Glitter non-slip floor strips and full exterior sign writing. Their fantastic new website can be seen at www.lovemyhound.com and we wish them all the best for their exciting new business and many happy years of grooming xx

23.08.16
This fab brand New Peugeot Boxer L3 H2 was recently delivered to the lovely Anna from London. Fitted with a Deluxe conversion and Generator package with a Navy interior and external sign writing. We LOVE her logo and sign writing and our own Yorkshire Terrier "Spartacus" was most approving of her sign writing choice! its Yorkie-tastic! - the pup in the towel is SO cute! Wishing you many Happy Years of Grooming Anna xx

15.08.16
Wet Pets Pink Princess Parlour! This stunning baby pink Medium Wheel Base Renault Master was delivered last week to the very lovely Claire from Cheshire! Fitted with our Deluxe conversion in baby pink with pink sparkle floor strips, full sign writing with metallic gold lettering and our brand new "Groomers Friend" energy reader, the final package looked fit for a princess! Again as it was a medium wheel base we had to be considerate with space but the final result had a huge amount of room left and looked beautiful. Wishing Claires many happy years of Grooming xx
"I'm an emotional wreck ... keep crying I'm so excited!! I just can't wait to get going with it all." "Thank yoooooo

😍

xx"!!!

Claire Proctor.

14.08.16
We delivered this fab brand new black Citroen Relay Medium Wheel base High roof last week to our customer, the lovely Liz from Redditch. Fitted with our Deluxe conversion in Custom purple, with a colour changing Pioneer surround sound system, Doggy Door Guards, Full sign writing with a logo that Liz drew herself and Glitter floor strips. As it was a Medium Wheel base van and Liz had asked for a custom double front locker, we had to be considerate with space so we moved the locker nearer to the side door aperture and extended the work top creating a covered area underneath for a bin or further storage with 2 anchor points and a bungee fitted too - proving that you can still have plenty of storage in a smaller sized vehicle whilst maintaining lots of room inside.Wishing Liz many happy years of Grooming

:)

xx

05.08.16
This Awesome Brand New Extra High Roof LWB Citroen Relay was recently delivered to the very lovely Paul & Josephine from Cork, Ireland. It was a real pleasure to work with these guys to create a conversion that matched their vision and the final spec included our Revolutionary Standalone Conversion, complete with Doggy Doors Guards, Exterior Sign Writing and Custom Blue Interior. We're really loving their new logo and funky website:

http://www.doggroomingcork.ie/

and they are set for a great future in mobile grooming! What with their already cool business acumen we're not sure they're going to need any luck, but we wish them lots of it for their new business, and many happy years of grooming xx
04.08.16
Wow! This Turqoise-Tastic Renault Master L3 H2 left us this morning to be delivered to the Lovely Carlotta form Surrey. Fitted with our Deluxe Conversion, Small Skylight , Full sign writing service and Turquoise Glitter floor strips. We really love Carlottas bright and fun logo and sign writing design and her choice of colour coded interior matches perfectly! Wishing you many happy years of Grooming Carlotta

:)

xx

03.08.16
"3 Shades of Grey!" - (Van exterior, Van interior and the Weather!!) For those who like a little more subtly in colour then have a look at this lovely Brand New Peugeot Boxer L3 H2 that left us on Tuesday to go to its new home in Kent with the lovely Alison. Fitted with our Revolutionary Self Powered Standalone conversion plus a custom cabinet, Holographic Silver Glitter floor strips and door guards we must admit this colour combo of a silver van and pale Dove Grey interior looked superb and felt incredibly spacious inside. Alison has left a high powered stressful job in London to become her own boss and do something she loved and with her new Mobile Grooming business she can work when ever and where ever she wants! Wishing you many happy years of Grooming Alison xx

27.08.16
This fab brand new Citroen Relay left us today to go to its new home with the very lovely Claire from Ipswich! Fitted with our Revolutionary Self Powered Standalone Conversion, full colour coded bumper and wing mirror spray with a purple bumper accent, Surround Sound, Full height cat door guards, Holographic glitter floor strips, Electric step, A custom cabinet with a Safe and Portaloo and full exterior sign writing. We love Claires sign writing design as it incorporates pictures of her own animals who look fab! - and add a real personal touch to her van. As well as dogs, Claire also grooms Cats and Rabbits too! Wishing Claire & "Woofie" her van, many happy years of grooming

:)

xx