New! Portable Palace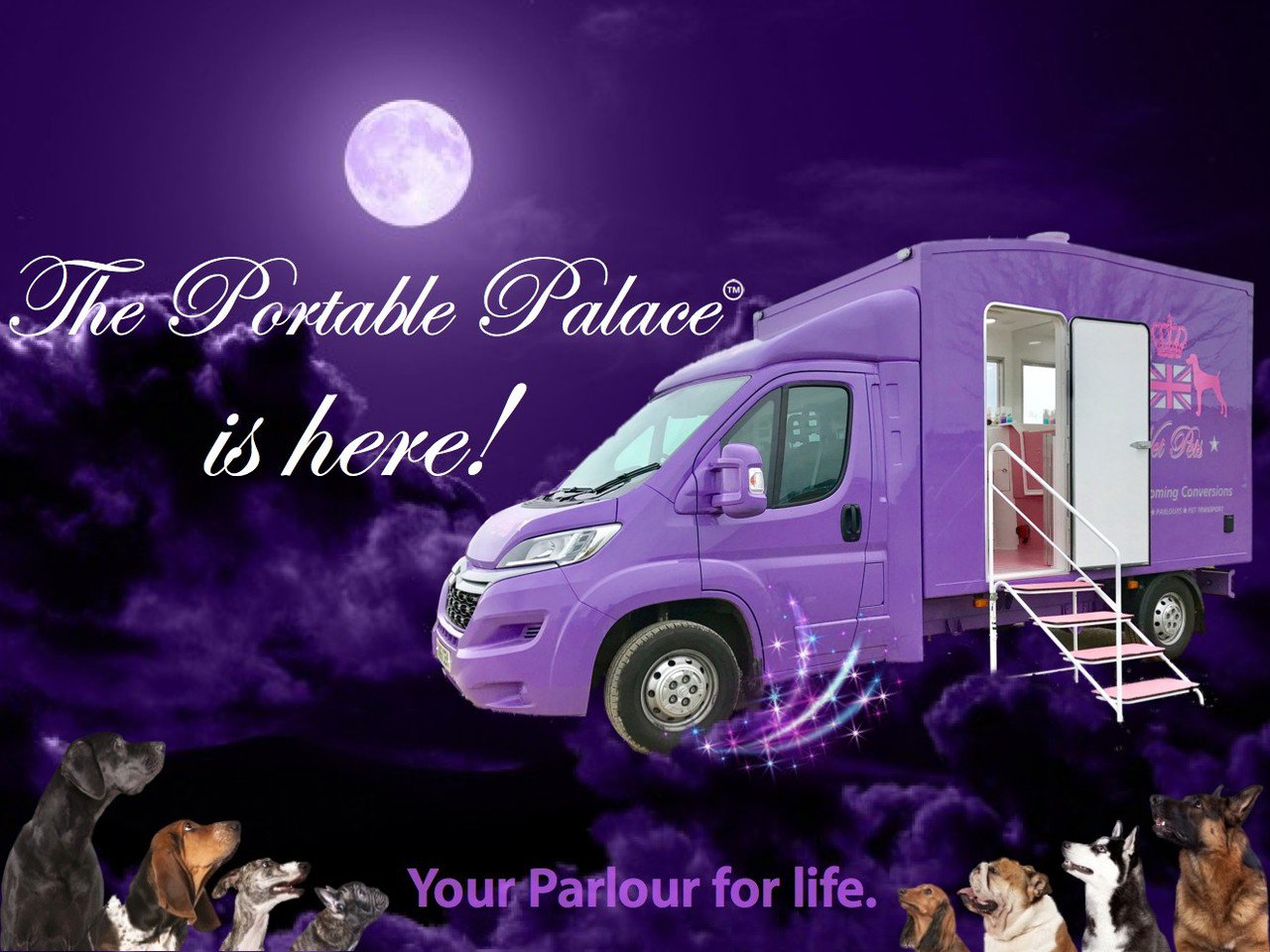 Introducing the "Portable Palace" - the UK's first demountable grooming parlour!
Created from our Revolutionary insulated panel, the Palace provides groomers with unrivalled benefits never seen before in the industry! This amazing new concept was born due to our lining's incredible lifespan - they often out live the vans they were placed in - so we created a demountable pod where your business can be moved on to the next chassis easily when needed - or if you no longer wish to be mobile, you can demount the pod and work from your garden!

As the chassis ages, the Palace can be removed and placed onto a brand new chassis - resulting in a much cheaper cost than having to buy a whole new van and conversion with next to no downtime
If the chassis is involved in an accident or breaks down you can simply remove the body, place it on the ground and work from your driveway whilst you wait for it to be repaired.
The lining will not out live the vehicle like so often seen with used van conversions. You then have to sell the van & conversion and then buy a new van and conversion and wait whilst it is converted. Whereas with the Palace, you can keep the pod forever and change the chassis as you need to.
Once you choose to retire from mobile grooming you can remove the Palace, sell the chassis and work from the Palace in your garden instead of having to buy a parlour or convert a room in your house.
When you choose to move home, you can take the pod with you and this portability combined with the size means they will not normally require planning permission in your garden.
You never need to buy a Brand new chassis that can depreciate - simply buy used a chassis and then swap them out as they get too old.
Smaller than its LWB Van equivalent but provides a more workable space inside that is highly customisable as there are no van strutts or vehicle constraints
Can be built to any height and wheelbase
Even on the LWB option you do not need a specialist license to drive the vehicle, it can be driven on a normal car driving license
Each Palace is completely customised to your exact specification and includes a fabulous full length window. Say goodbye to having to buy a whole new van and conversion every few years - simply move your Palace from one chassis to another with zero down time and when the time comes and you no longer want to be mobile, simply place your Palace in your garden and you have your very own at home groom room!








Prices below include the Box and Conversion but exclude cost of Chassis. A Good used Chassis can be purchased from approx £7,000+vat upwards and we are able to help source one for you.
Palace including a Bespoke Conversion; £14,695+vat
Wet Pets Revolutionary 100mm 100% waterproof fully Palace body including rear and side doors - keeping you warm in the winter and cool in the summer with anti-frosting and anti-condensation ability and a fabulous texture free white gloss finish for easy cleaning.
A Hygienic gel coated water proof sealed floor with colour co-ordinated non-slip entrance strips for extra grip and a smooth floor throughout for easy sweeping.
External inset water-proof hook up plug
Extra wide & strong fold out steps with hand rail
Extra long 25m Special Heavy Duty Artic Cable external hook up power cable with anti - coil capabilities
4X Double 240 volt water proof plug sockets with covers
Full 16amp power supply with RCB Protector and Safety Standard Electrics with certificate
6X ultra bright L.E.D lights in LWB vans and 4 in MWB vans.
1X drain for full interior wash down
6X deep faced shelves positioned at your choice
A front opening New! CE APPROVED Redcape Hydro Speed Spa Hydrobath with adjustable shower head pressure and external digital thermostat for easy instant temperature adjustment.
Bath hooks to restrain dogs during bathing.
A Ravenstein Professional Electric table; The leading professional grooming table on the market with a super strong design and ultra smooth remote controlled motion - heralded as the best electric grooming table in the industry (rrp £895).
An adjustable Extra Strong Adjustable Ravenstein table "H" frame
A wall mounted Double K Challengair Airmax Dryer fitted in rear of the van with switches located next to grooming table - Highly regarded as the best Blaster on the market with unbeatable power and lasting quality.
250 litre fresh water tank in rear of vehicle.
Premium hi-pressure water pump for ultra fast bath refil
Rear Half Bulkhead with Lexan Glass storage sections & Wet Pets Motif.
2 Low profile manual white air vents
Palace including a Deluxe Conversion: Only £15,995+vat
Wet Pets Revolutionary 100mm 100% waterproof fully insulated Palace body including rear and side doors - keeping you warm in the winter and cool in the summer with anti-frosting and anti-condensation ability and a fabulous texture free white gloss finish for easy cleaning.
A Hygienic gel coated water proof sealed floor with colour co-ordinated non-slip entrance strips for extra grip and a smooth floor throughout for easy sweeping.
Extra wide & strong fold out steps with hand rail
Full Certified Electrics with 3 double sockets & RCD unit
Standby Plug 240 volt with 25m Standby lead
6 x Ultra Bright LED lights
6 wall pockets
1 x Stainless Steel Drain & Plug
A new! Redcape HydroBath Ultra
A Double K Challengair Airmax Dryer mounted in rear of vehicle behind full height bulkhead with extended hose and switches
An adjustable Redcape Table "H" Frame
A Redcape Professional Electric grooming table
1 x Fletnor air vent for optimum air flow
1 Electric vent for steam extraction and fresh air intake.
A 250 Litre Fresh Water tank housed in rear of Palace behind full height bulkhead
A row of wall mounted chrome hooks for leads and clothing
Premium Water Pump and plumbing for maximum water pressure and Hydrobath Autofill
Automatic Air Freshner with refils
A Wet Pets clock
Full demountable system with legs
Wall mounted heating unit with a built in Thermostat
Wall mounted front locker storage unit with faux diamond handles and internal shelves
Removable storage units next to bath with faux diamond handles and built in top shampoo storage